Paxos
Paxos is a lovely little island to the south of Corfu, ideal for a quieter and more relaxing Greek holiday because there's not much else to do other than swim and enjoy the beaches (though there are no sandy beaches), walk in the countryside, and eat and drink in some very good restaurants.

Paxos, also known as Paxi or Paxoi, is a speck of an island 11km to the south of Corfu, with three main villages and small enough to be walked across in a single day: it is only 10km long and 4km across, with a network of paths that go through the numerous olive groves which fill the island. It is a great contrast to its bigger and busier neighbour to the north, as the tourists attracted to Paxos are those who like somewhere quieter, more laid-back, and more directly in touch with its own traditions.

The symbol of Paxos is the trident, which is a nod towards one story of how it came into existence. The god of the sea, Poseidon, needed a place to hide his lover, Amphitrite, and created Paxos by striking the sea with his trident. Gods apart, Paxos is thought to have been uninhabited till settlers arrived from the mainland in about the 6th century AD. Even now there are less than 3,000 people on the island, spread between the three main harbour villages and a scattering of rural settlements inland.

With so few places to visit, there is a limited amount of accommodation available, much of it pre-booked for the summer months by British and German tour companies, as those two nations have very much taken to Paxos. The Paxiots have taken to them, too, as they welcome the prosperity that small-scale tourism has brought, and it works well alongside the established industries of olive oil and fishing.

Paxos may be a simple island but it is not inexpensive. Much of the produce has to be imported from Corfu, and visiting yachts have produced a demand for more sophisticated food, and this is one of the delights of visiting the island. Each of the three harbour towns, all delightfully pretty, can provide food of far better quality than you might expect from the size of the island.

Gaios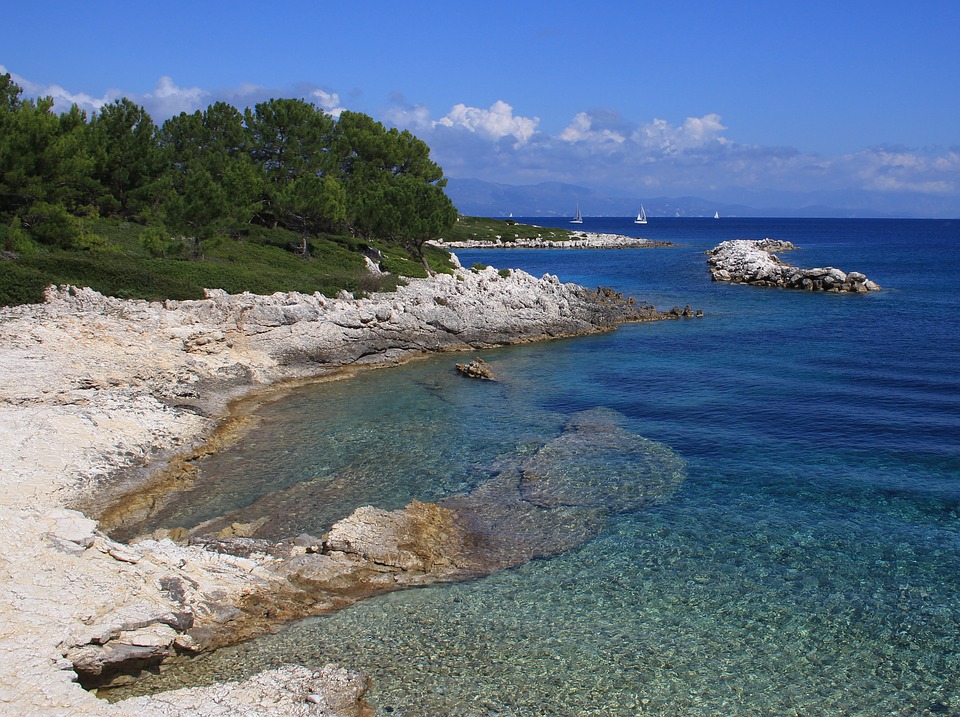 The Coast Near Gaios
The main settlement is Gaïos, a beautiful little village that clusters round a small harbour and a Venetian town square. Its charm is enhanced by two tiny islands, which stand in the bay. Agios Nikolaos is covered in pine trees and has the remains of a Venetian fortress atop its little crown, while Panagia has a church of the same name. Boats from the harbour front will take you over to the islands if you wish to have a closer look. There is only one hotel in Gaïos, but many other apartments and villas to rent, and outside of high summer finding somewhere to stay would not be a problem.

Loggos
North of Gaïos the island's one main road heads inland through some quiet hill villages – well worth walking to if time allows – and then back down to the next main coastal settlement, Loggos (or Longos). This is just as charming as Gaïos, with a harbour that was designed with picture postcards in mind, a small town beach, good walks in the vicinity, and several of the best restaurants on the island. There are more good walks to be had, either along the coast to quiet coves, or climbing up the steep steps out of the harbour to the hamlet of Dendiatika with its whitewashed houses and timeless feel to it.

Lakka
At the far north of the island is Lakka, equally delightful, with a large harbour surrounded by tree-covered hills, a relaxed atmosphere, several shops and more fine restaurants, two town beaches and further beaches along the coast offering good sunbathing, swimming and watersports.

Antipaxos
Just as Paxos lies like a speck south of Corfu, so too does Antipaxos lie like an even tinier speck south of Paxos. Only a handful of people live on the island, where there are no shops and only a few tavernas set up by the beaches in the summer months. In the height of summer the island gets inundated with day visitors from Corfu and from Paxos, but in truth the beaches are much poorer than on either of those islands. It is easy to escape the crowds by going for walks in the centre of the island, covered by olive groves. 

Flights to Paxos
Paxos is a tiny island and does not have its own airport. The nearest major airport is on Corfu, well served by flights from Athens and by holiday charter flights from all over Europe in the summer. The best way to get to Paxos is to buy a cheap ticket on a charter flight to Corfu, and then take the ferry from Corfu Town to Paxos.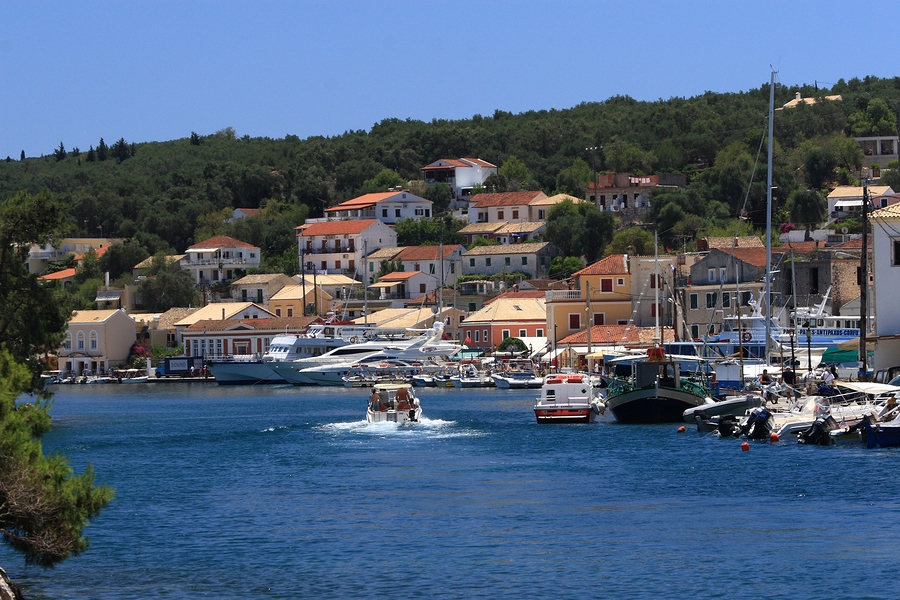 Ferries to Paxos
Some package holiday companies charter their own boats to take their guests from Corfu to Paxos, while others use the regular passenger ferries. In the summer there is a fast daily hydrofoil service from the port at Corfu Town to Gaios, the main town on Paxos. There are also private sea taxi services between the two islands, and a car ferry service that links Paxos with Igoumenitsa on the Greek mainland, across from Corfu.
Ferries in Greece
Ferries in Greece has an excellent and very thorough website where, in addition to checking ferry schedules and times, you can also book tickets and get lots of useful information about travelling by ferry in Greece.