Corfu Olives
Corfu olives are an important part of this Greek island's economy, with an estimated 3-4 million trees producing olive oil of exceptional quality.
Much of Corfu's lush green landscape comes from its vast groves of olive trees. For islanders they have long been an economic mainstay. For visitors, there is nothing more magical than a walk or drive through these rustling, sun-dappled groves that cling to the hillsides on stone-banked terraces. Corfu's olive trees are larger than anywhere else in Greece. Some of these ancient giants with their gnarled and knotted trunks are nearly 500 years old. 
Legend has it that Saint Spyridon appeared in an olive grove and forbade the islanders to cut or beat the branches of the trees, because it was cruel. So for centuries they have not pruned the trees, and instead of picking the olives they let them fall to the ground by themselves, spreading nets beneath the trees to catch them. But the Greek government has decreed that olive trees must be pruned in order to maintain peak productivity.
The Venetians were responsible for the widespread, systematic planting of olives on the island, which reached its peak in the 16th century. They wanted to ensure their city would never run short of oil. The Venetians gave ten gold pieces for every grove of 100 olive trees planted, and when they left it is said the islanders had nearly two million trees.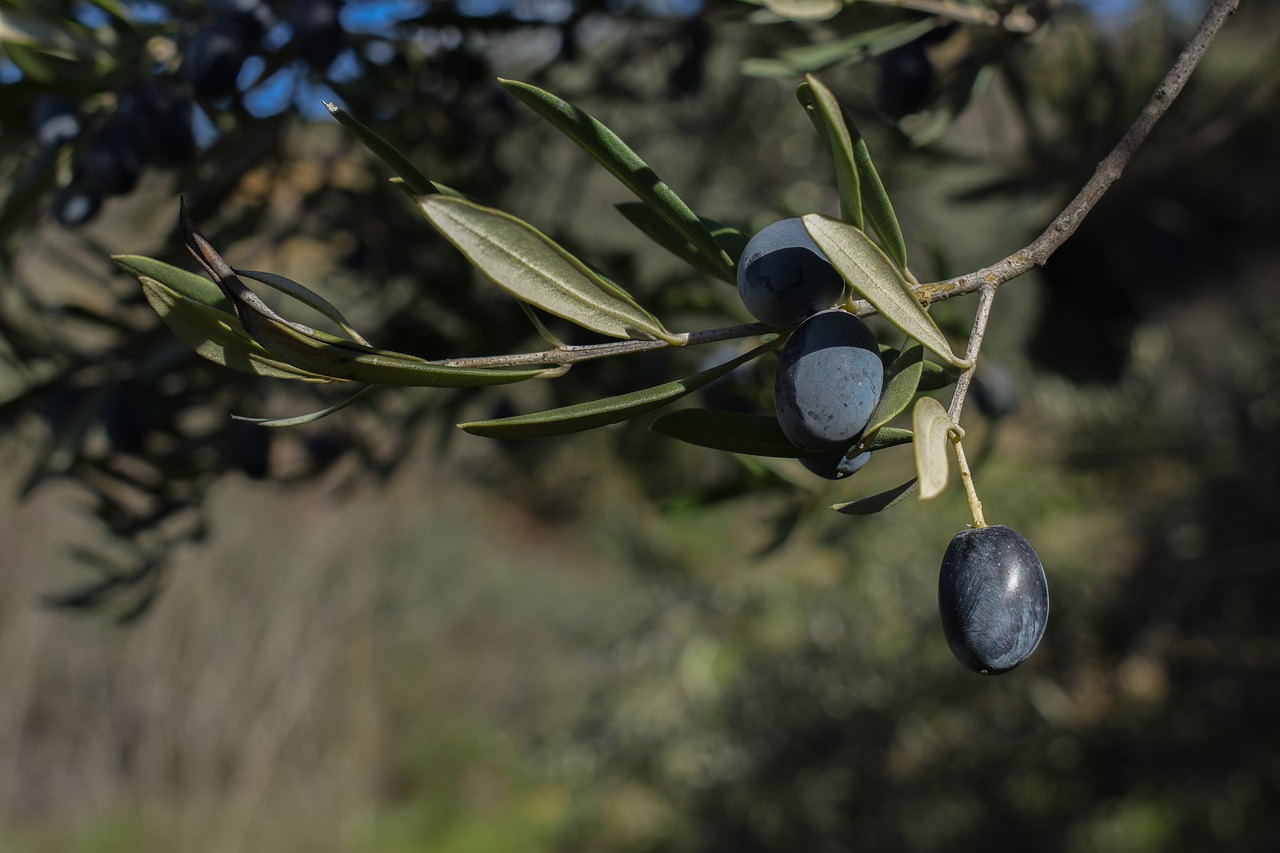 'A hunk of bread and a Greek tomato the size of a baby's head need only a saucer of the magic stuff to provide a wonderful meal.'
Emma Tennant on olive oil, from her book Corfu Banquet.
Today there are said to be 3-4 million trees and olives remain one of the main agricultural crops on Corfu. Trees bear fruit only every other year, and new trees may take 12 years to yield a first crop. In a good year the olive harvest lasts from January through till May. 
Corfu's olive oil is a dark, slightly greenish colour and is of high quality. Despite the abundance of trees, it can be surprisingly hard to find on Corfu. Locals keep most of it for their own use and the rest is exported to Italy.
Ancient Fruit
Since ancient times, olives have been part of the staple diet of people throughout the Mediterranean. Olive cultivation and the production of oil date back to the Early Bronze Age (about 3000 BC). Corfu's land and climate were highly favourable for growing olives. In The Odyssey, Homer tells us that the tree was cultivated here by King Alkinoös.
In addition to being part of the daily diet, olive oil had many other uses. It was used to cleanse and beautify the body, like soap today. Artwork on vases from the 6th and 5th century BC shows young men smearing their bodies with oil, and scraping themselves clean with a curved blade known as a strigil.
Olive oil had therapeutic properties and was used to soothe skin irritations. It could be blended with flower or herbal essences to produce fragrant oils. It was also burned in household lamps and later in the lamps of Christian churches and saints' shrines. Olive oil was stored and transported in large clay vessels called pithoi or amphoras, which had a closed shape. 
Some Cool Corfu Souvenirs
Corfu's Black Gold
Nearly every Corfiot family owns at least a few olive trees. In the 17th century a family's wealth was determined by the number of trees it possessed. It was customary for large landowners to let out the oil crop to the peasants living on the property, who worked the harvest in return for half the oil.
In rural areas the number of trees is still a factor in calculating land values. Trees and land are often owned separately. When purchasing a piece of land, the buyer must also find out who owns the trees, as they have right of way over the land.
In Prospero's Cell, Lawrence Durrell describes the sour, pungent taste of Corfu's black olives as 'A taste older than meat, older than wine. A taste as old as cold water.'