Northern Corfu

Northern Corfu is the most diverse part of the island, with Corfu's highest point, Mt Pantokrator, and beach resorts like Sidari and Palaiokastritsa.
The northern half of Corfu is the most dramatically diverse part of the island, although if you drive north out of Corfu Town along the main coast road you would be forgiven for assuming that it was going to be nothing but a long string of similar-looking holiday resorts. With bronzing bodies on one side and disco strips on the other, the first few kilometers give no indication of this historically and geographically rich island.

North from Corfu Town

The first few resorts – Gouvia, Dasia, Ypsos and Pyrgi – do have their advantages, and certainly have good beaches and watersports facilities, which is why they are popular with families from all over Europe, including Greece. But they have long since lost any sense of individuality. It is not until the road reaches near to the lower slopes of Mount Pantokrator, the highest point on Corfu, that villages like Nisaki and later Kalami start to show signs of their original Greek appeal.

Kalami
Kalami in particular manages to stay much as it has always been, albeit with an increase in tourism, especially day-visitors come from other resorts. One of its claims to fame is that in the White House, just behind the beach, the British writer Lawrence Durrell (1912-1990) lived while writing his book about Corfu, Prospero's Cell. He was visited here by his friend Henry Miller (1891-1980), whose own book The Colossus of Maroussi includes his visit to Corfu and remains one of the most vivid books ever written about Greece,

Mount Pantokrator
Places like Nisaki and Kalami are wonderfully enhanced by having the towering shape of Mt Pantokrator as backdrops, rising so steeply in places that its highest point (906m/2972ft) is only 3km/1.9 miles from the coast as the crow flies. Its bulk fits the translation of its name perfectly: the Almighty. It truly does dominate northern Corfu, visible from almost everywhere.

It's possible to drive all the way to the top, if you don't mind a bit of bumping towards the end, but the best approach is on foot, as it is criss-crossed with paths and the flowers, especially in spring, are spectacular. At the top are a small monastery and an electricity pylon, and seemingly endless views over the island and across the sea to Albania.

Inland
The interior of northern Corfu has lots of mountain villages worth exploring. Apart from the occasional coach passing through on a scenic drive, the villagers live in a world hardly affected by the tens of thousands of tourists just a few kilometers away on the beaches.

North Coast

The northern coast of Corfu has its own variety, and even within one of its busiest resorts – Kassiopi in the east – it manages to combine bustle with friendliness, not to mention a scenic setting around a small harbour with a wooded headland at either end. Fishermen and watersports enthusiasts both enjoy the waters, and no less a person than the Emperor Nero is said to have visited a Temple of Jupiter here, though it no longer exists.

Sidari
The main resort in the west is Sidari, which is known to have had one of the first Neolithic settlements on Corfu, dating back to 7000BC. Today one of its main attractions – beaches aside - is the unusual nature of its rock formations, the sandstone having been weathered by wind and rain into surreal swirls. See our separate Sidari page.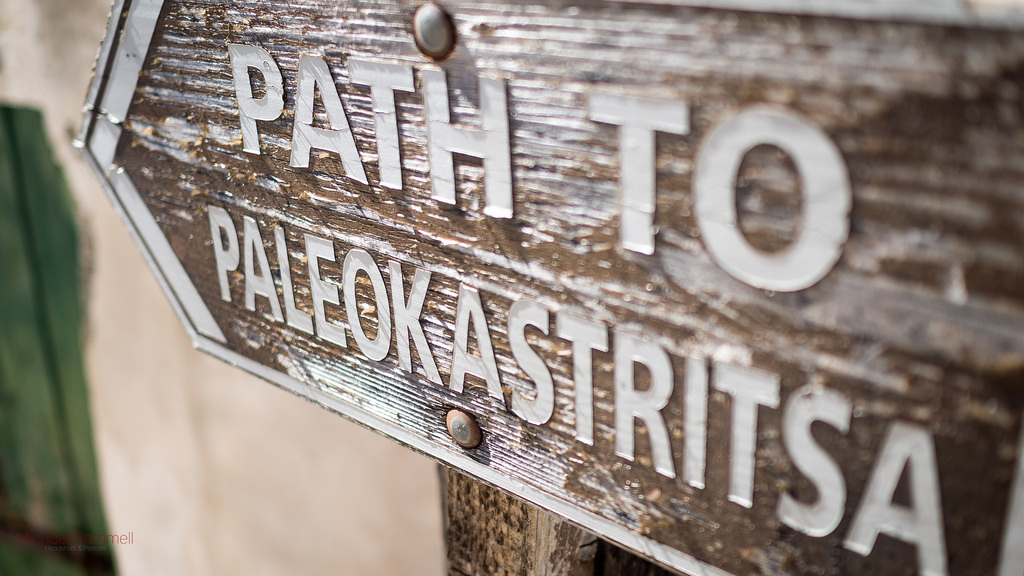 Palaiokastritsa

Sidari is distinct and so too is the major west coast resort of Palaiokastritsa. So strong was its appeal to one of the British High Commissioners on Corfu, Sir Frederick Adam (Commissioner from 1824-31), that he had the modern road built to make access easier for him from Corfu Town. 

It is easy to see the attraction. Here green wooded headlands stand over a deep blue sea, with a road zigzagging down to a cluster of coves and sandy beaches, from where boats ride out to visit hidden grottoes. With the 17th century monastery of Moni Theotokou and the ruins of a 13th century Byzantine fortress both close at hand, it would be hard to design a more perfect Greek holiday spot. For more information, see our main Palaiokastritsa page.

Some Cool Corfu Souvenirs