Corfu Beer Festival
Guest Blog by Alex Christou
of www.greencorfu.com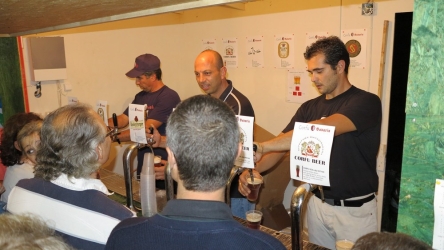 Celebrating Beer in Corfu
All Photos (c) Alex Christou
This October, the 1st Corfu Beer Festival was held in Arillas, in North West Corfu.  It was organised by our local Corfu Microbrewery, in close cooperation with the local community. It took a lot of work, and more than 150 volunteers were involved in the planning, setting up, advertising and actually running the Festival. The Festival lasted five days, from 9-13 October, and it was a bigger success than we could ever have imagined! Thousands of people visited the festival grounds, tasted the beers, local food and local products offered, enjoyed the music and danced along to many different tunes: Corfiot, Greek and German!
Corfu meets Bavaria

The theme was Corfu meets Bavaria. We chose Bavaria because it is the homeland of beer as we know it. The Law on the Purity of Beer (Reinheitsgebot) was made an official law of Bavaria back in 1516! Also in Munich, the capital of Bavaria, the annual Oktoberfest is held, the biggest and oldest beer festival in the world! So, the idea was that this festival could bring together Greeks and Germans to drink, eat and dance, leaving behind the politics that are trying to separate us.
Corfu Beer Festival: The Beers

The Corfu Microbrewery is a small but fast-growing brewery, producing some of the best beers in Greece. All their beers are fresh, unpasteurised and delicious. They produce two types of real ale, plus a lager, a pilsner, and a special beer re-fermented with honey. They were commissioned by JD Wetherspoon to produce a real ale called Koroibos exclusively for the London Olympics. With their connections they managed to get four German brewers to come to Corfu and brew four different wheat beers (Weizenbier) exclusively for the festival.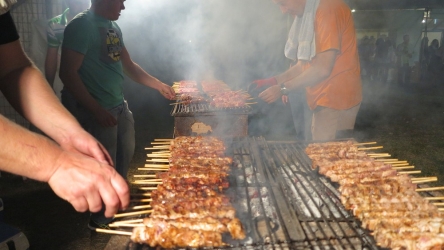 Food

There was a wide selection of food at the Corfu Beer Festival, from traditional Greek souvlakia to German weisswurst, and from local specialties such as sofrito and pastitsada to recipes created by accomplished Corfiot chefs especially for the occasion. (See Greece Travel Secrets' Corfu Food and Drink page.)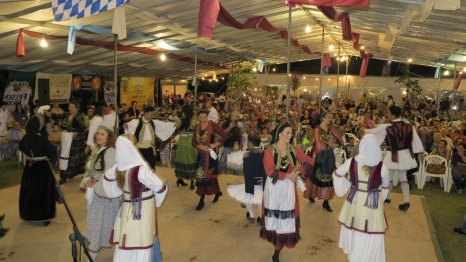 Music and Dance

There was a diverse music program, changing every night. The stars were the traditional band Zuaweziaga from Bavaria, along with the Rosenheim dancers who performed their impressive dances in lederhosen every night. From the Greek side we had two to three different bands or dance groups each night, performing music ranging from traditional music and rembetika to opera and Queen covers! Dancing went on till deep in the night...
Some Cool Corfu Souvenirs
Seminars

In the mornings, when most of us were recovering from the previous night, seminars were organised on different subjects. There was of course a seminar on beer, but also seminars on bartending, cooking and olive oil, all presented by experienced professionals and acclaimed scientists.
The best thing of the whole festival though was the relaxed atmosphere. We may have had more than  10,000 people who drank about as many liters of beer, but there wasn't a single misunderstanding or fight in the whole five days! It was a great experience and we are all looking forward to next year's Corfu meets the UK festival (8-12 October 2014), with participants from England, Scotland, Wales and Northern Ireland!
Where to Stay on Corfu