Athens Dining Guide

This Athens dining guide doesn't list restaurants but gives practical advice on types of eating places, tipping, hotel breakfasts, and picnics.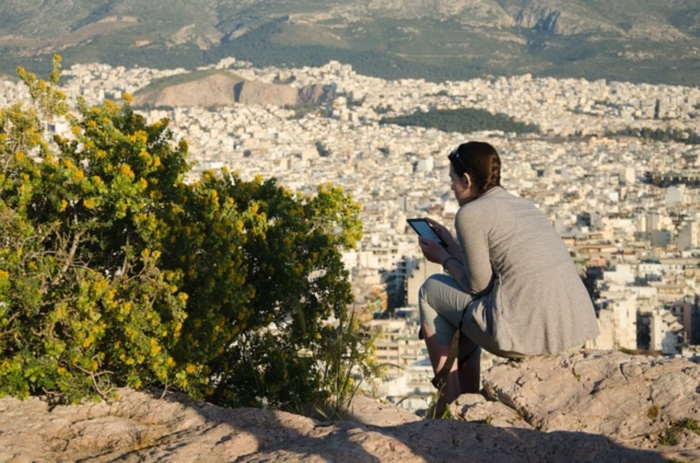 How Do You Choose Where to Eat in Athens?
It wasn't very long ago that Athens only had a handful of really exceptional restaurants, the vast majority being good-value places with similar menus, and some rather over-priced options trying to lure the tourists in the Plaka. That's no longer the case. Standards have risen, Michelin stars have arrived, and it is as easy and as expensive to have a gourmet meal in Athens as in any other European capital. However, it is still possible to find those good-value meals, and if you are in Athens and sticking to a budget your money will stretch much further here than almost anywhere else.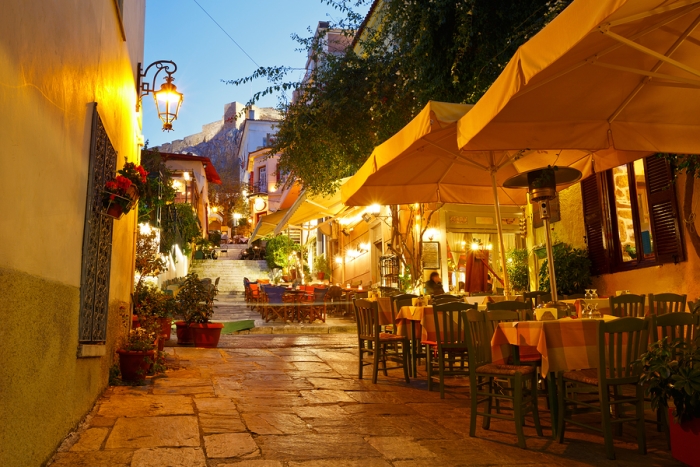 The only thing that hasn't changed is that the Plaka still has a number of places where the food is mediocre. There's a simple rule for dealing with this: never eat anywhere which pays someone to stand outside trying to persuade you to come inside. It isn't an infallible rule, but it's right more often than it's wrong. The best places in the Plaka are a handful of simple basement tavernas. If you have to go down steps to get in, then in our experience the place will probably be good.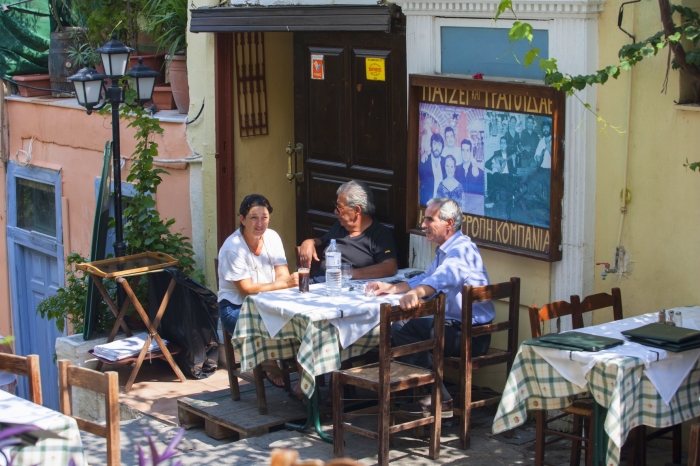 If you haven't set out to eat anywhere in particular but enjoy walking around trying to decide where to eat, head not for the Plaka but for the neighbouring Psyrri district to the north-west. This buzzes with ouzeries, bars, and restaurants and is where the Athenians go to eat. Many places only have Greek menus but don't let that put you off. Most staff speak English and can tell you what they've got.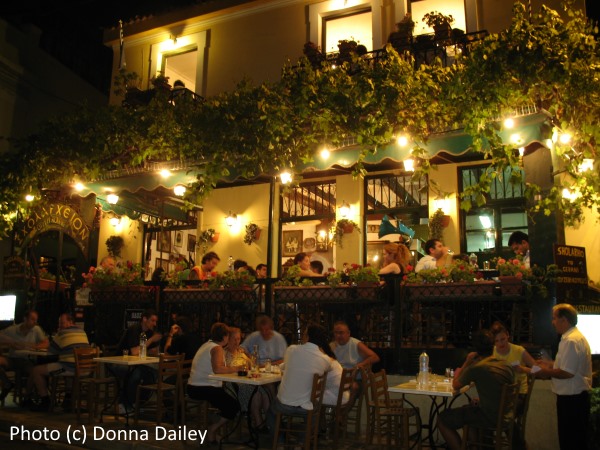 Types of Restaurant
The word restaurant is in common use in Athens (estiatório in Greek) and mostly refers to a slightly more upmarket eating place than a taverna. The taverna is usually less formal, the kind of place where you might be invited into the kitchen to see the day's dishes rather than choose from a menu. Tavernas are generally cheaper, too. Then there are ouzeries, which serve the Greek aniseed-flavoured drink, ouzo, with snacks and sometimes full meals – more akin to a Spanish tapas bar. Psistariés are places that specialise in grilled food, and psarotavérnes focus on fish and seafood.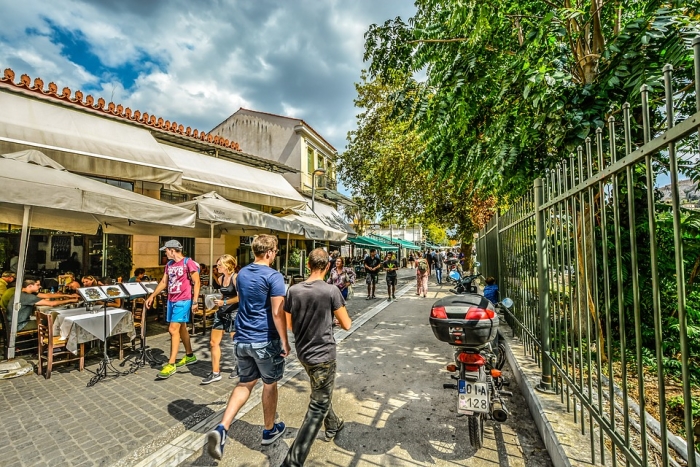 Breakfast

Hotel room rates sometimes include breakfast and sometimes don't. Some hotels serve excellent breakfasts in continental fashion, with coffee, fresh juice, fresh breads and croissants, cold meats, cheeses, fruit, and yoghourt with honey. Others serve a perfunctory meal of dried toast, watery orange juice, and cereal. If that's the case then you should head straight out to a neighbourhood café and have something there instead.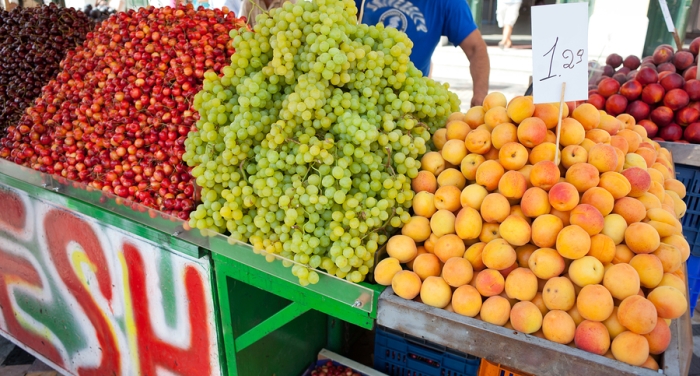 Picnics
Athens is not a great city for picnics. The National Gardens is the best spot, away from the traffic and with lots of benches and greenery around. Many Athenians do pop in there to read their papers or catch a moment's peace and quiet. If you want a snack for there, or to take on a day trip, then go shopping near the Central Market, south of Omonia Square. Here you'll find olives, bread, cheeses, dips, and fruit, to put together a tasty meal. Pies are popular with locals, and you can buy these at shops on almost every street. Like fast food anywhere, they range from the delicious to the dismal, but a good hot and fresh spinach or cheese pie is a cheap and filling treat.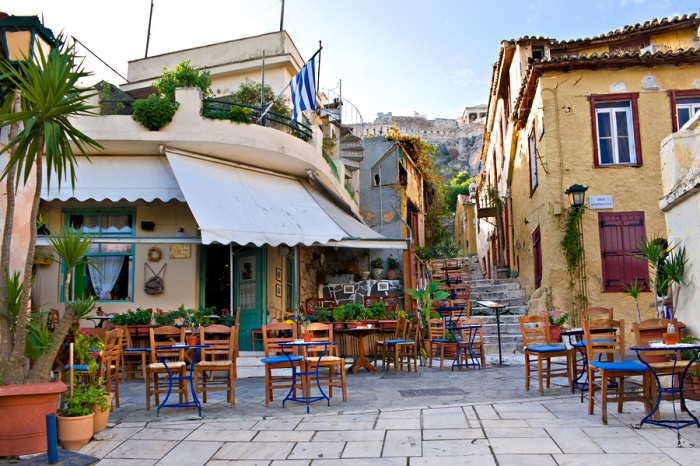 Eating Times
Athenians eat late. Starting lunch at 2-3pm is normal, and dinner before 9pm is something only visitors do. Places are open much earlier than this, to cater to the needs of visitors, but if you want the real Athenian experience you'll adjust to their eating times. 

Tipping
Your bill in a restaurant will usually include a service charge, so there is no need to add on a tip. If no service charge has been added, then 10-15% or rounding up the bill to the nearest round amount is normal. The custom is also to leave any loose change or small notes on the table for whoever does the clearing away. See our full page of information on Tipping in Greece.
Where to Stay in Athens
Don't miss this visual tour of Athens with photos by Donna Dailey of Greece Travel Secrets.