Best Cocktail Bars in Athens
Two of the best cocktail bars in Athens, MoMix Kerameikos and The Clumsies, are making creative cocktails using that most Greek of Greek spirits, Metaxa.
The Clumsies
All Photos (c) Mike Gerrard
If you look at the economic reports you'd be forgiven for thinking it was still all doom and gloom in Greece, but it's boom in one respect: cocktail bars. Partly fuelled by a steady increase in tourist numbers, Greece is following the world trend for creative cocktails and mad mixologists, especially in Athens.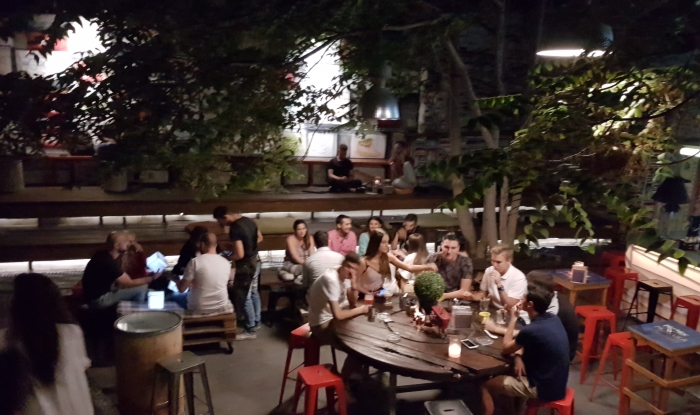 The Outdoor Patio at MoMix Bar Kerameikos
Look up Kerameikos in most guidebooks and you'll be told about the famous cemetery there, that this was once the home of ceramicists and is where we get the very word ceramics from. But it's also where you'll find the MoMix Bar Kerameikos, which opened in November 2012 and has been so successful there's now a MoMix in the seaside suburb of Glyfada, joined this summer by MoMix Bar Santorini.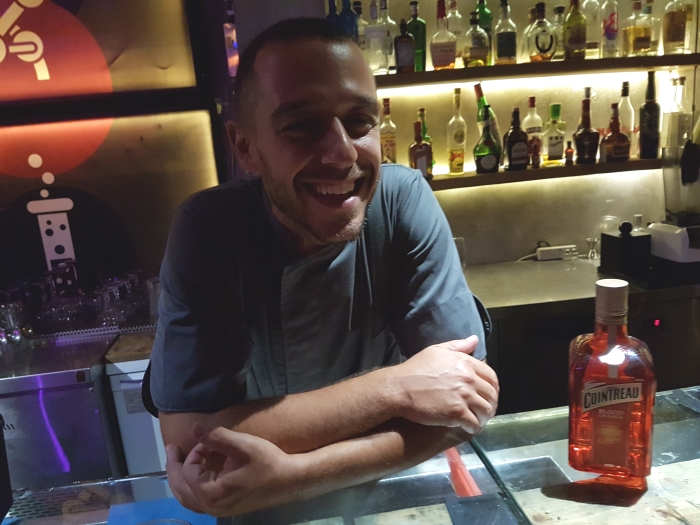 Aris Chatziantoniou

It's in the Kerameikos original that you'll find MoMix co-founder Aris Chatziantoniou performing the molecular mixology that gives the bar its name. The cocktail menu is a cube that lights up when you move it and has such weird wonders as cocktail bubbles, cocktail tubes, magic needles and a Saganaki Cocktail. 
Grecophiles will know that saganaki is fried cheese, and the photo on the menu certainly looks like a piece of fried cheese in a frying pan. The 'cheese', though, turns out to be a block of cream mixed with the Greek brandy Metaxa, which is soaked with a mixture of citrus and spices and then flambéed. It's a cocktail that you eat with a fork.
'How about a Greek MaiTai?' Aris asks. 'I use Metaxa instead of rum, with Cointreau Blood Orange, lime and peach bitters.'
I'm surprised at the use of Metaxa, which has been around forever and is as Greek a drink as ouzo or retsina. I ask Aris if he uses it a lot.
'Of course,' he says. 'It's a very versatile spirit. It is also a taste of Greece, and we should be using our Greek spirits. I use it in my version of a Negroni – a Megroni! I also like using mastiha, which is a mastic that comes from the island of Chios. It's used as a chewing gum and for medicinal purposes but it also makes a good liqueur with an unusual taste, and I make a mastic foam for some cocktails.'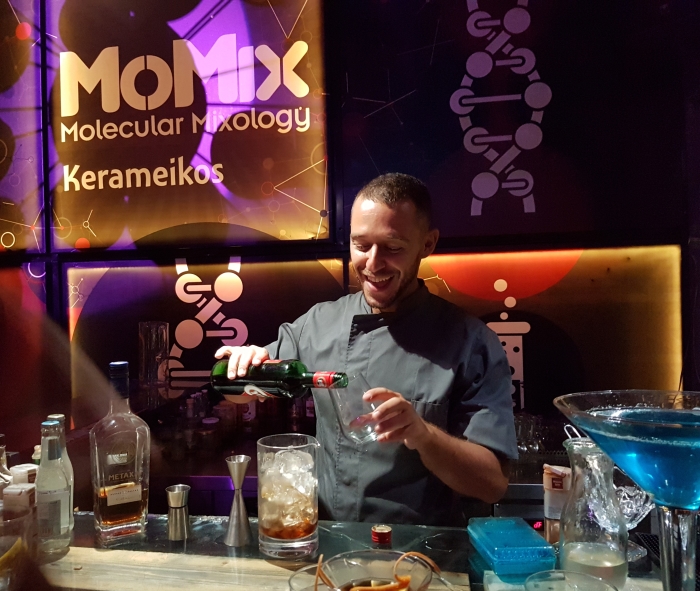 Like a mad scientist, leaping around with great enthusiasm, Aris takes what appears to be a blob of mastic jelly and floats it in a giant cocktail glass containing some kind of blue liquid. After a few seconds he removes it on a spoon, takes a syringe and injects the jelly with a few drops of Metaxa. He pours some passion fruit juice over it, adds some orange and Fernet-Branca, and offers me the spoon. 
The 'cocktail' explodes in the mouth, with the tart fruitiness of the passion fruit, the slightly minty taste of mastic and a surprisingly strong taste of brandy, considering he used just a few drops. I can't quite believe that he charges only €4 for this and a range of other cocktail bubbles that he's created. I can believe it when he tells me he has a laboratory upstairs where he spends hours playing with flavours, and where he also offers training and seminars.
Vasilis Kyritsis at The Clumsies

Aris is far from being the only mixologist making his name on the Greek cocktail scene. A ten-minute walk from Syntagma Square, a bar called The Clumsies opened in 2014. In less than a year it was ranked number 22 on The World's 50 Best Bars list, and later had rocketed to number 6! That's not so surprising when you learn that it was founded by two award-winning Greek bartenders, Nikos Bakoulis and Vasilis Kyritsis.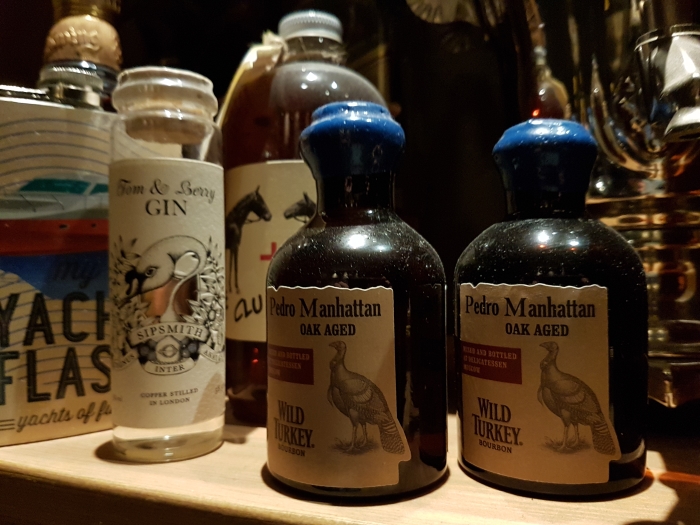 The Clumsies also has a Historic Spirits Collection
The Clumsies' cocktail list runs to several pages and even has a name: Genesis. That's because 'All of our ingredients originate from the Greek soil.' Each cocktail has its flavour profile listed (sour and sweet, dry, sweet and salty, umami...), and international spirits like Tanqueray Gin and Ketel One Vodka are accompanied by Greek flavours such as Skinos Mastiha Spirit, Samos Vin Doux Dessert Wine and Metaxa 7 Star.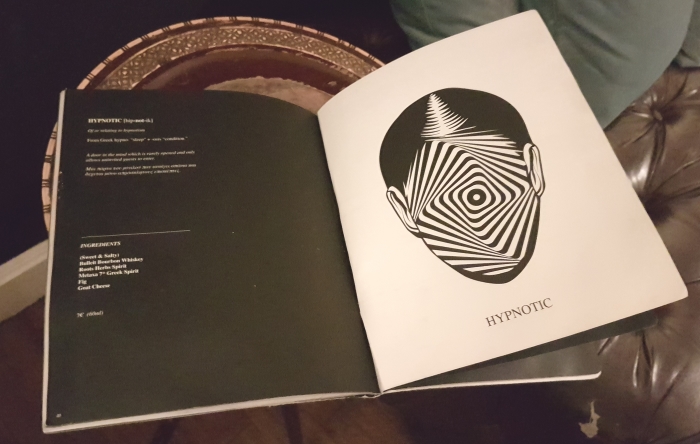 Vasilis suggests a cocktail called Hypnotic. It blends Bulleit Bourbon with figs, some goats' cheese, Metaxa 7 Star and Roots Herb Spirit. This is made from a Cretan mountain plant called dittany, which locals also use to make tea which they drink to cure headaches and other ailments. The sweet and sour mix of Kentucky and Crete, of figs, cheese and Metaxa, is both potent and delicate. It's Greece in a glass, and at €7 is half the price it would be in London. He then makes us his take on a Ramos Gin Fiz.
'We don't use egg whites,' he says, 'because Greeks don't like egg whites, but instead we use aquafaba. This is the water left after you've cooked chickpeas, and we turn it into a foam. We use Metaxa 7 Star instead of gin, so the drink is basically Metaxa with chickpea icecream!'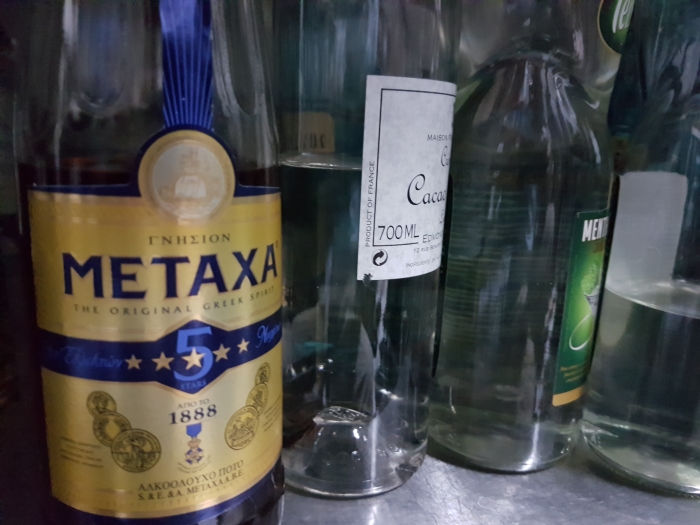 In the Play Room at The Clumsies
Like Aris at MoMix, Vasilis also has his upstairs laboratory, which he calls The Play Room. Here he and his team experiment, throwing together different flavour combinations and coming up with ever-more-inventive ways in which you can make cocktails. As far as Greek cocktails go, it's far from being a recession.
More Information
The Momix Bar Kerameikos
Open Sun-Thu 8pm-3am, Fri-Sat 8pm-4am
The Clumsies
Open Sun-Thu 10am-2am, Fri-Sat 10am-4am
These creative bartenders were making some cocktails with that unique Greek spirit, Metaxa.  Greece Travel Secrets was lucky enough to enjoy a private tour of the Metaxa Distillery in Athens, and you can see our slideshow on our YouTube channel.
Where to Stay in Athens