Rhodes Food and Drink
The Greece Travel Secrets guide to Rhodes food and drink including the Greek words for meze, meat dishes, and fish dishes, and a guide to the best Rhodes wine.
The reputation of Greek food and drink has languished, unfairly, in the shadow of French and Italian cuisine and wine-making. The best Greek tavernas represent the highest standards of traditional cooking, and a modern approach to Greek cuisine is found in many top restaurants, while Rhodes produces some of the best wines in the Mediterranean.
Mezédhes (starters)
Making a meal of it in a Greek taverna may mean that you never get past the mezédhes (or meze, for short). The Greek style of eating mezédhes is to order half a dozen mixed plates and then for everyone to dig in.
Mezédhes worth trying include manitaria (mushrooms), keftedes (spicy meatballs), dolmadakia (rice wrapped in vine leaves), kotópoulo (chicken portions), saganáki (fried cheese), khtapódhi (octopus), spanokeftedes (spinach balls) and bourekakia (meat pies). Add to all this a couple of dips such as tzatziki (garlic and cucumber yoghurt) or melitzanosalata (aubergine and garlic).
Horiatiki (Greek Salad)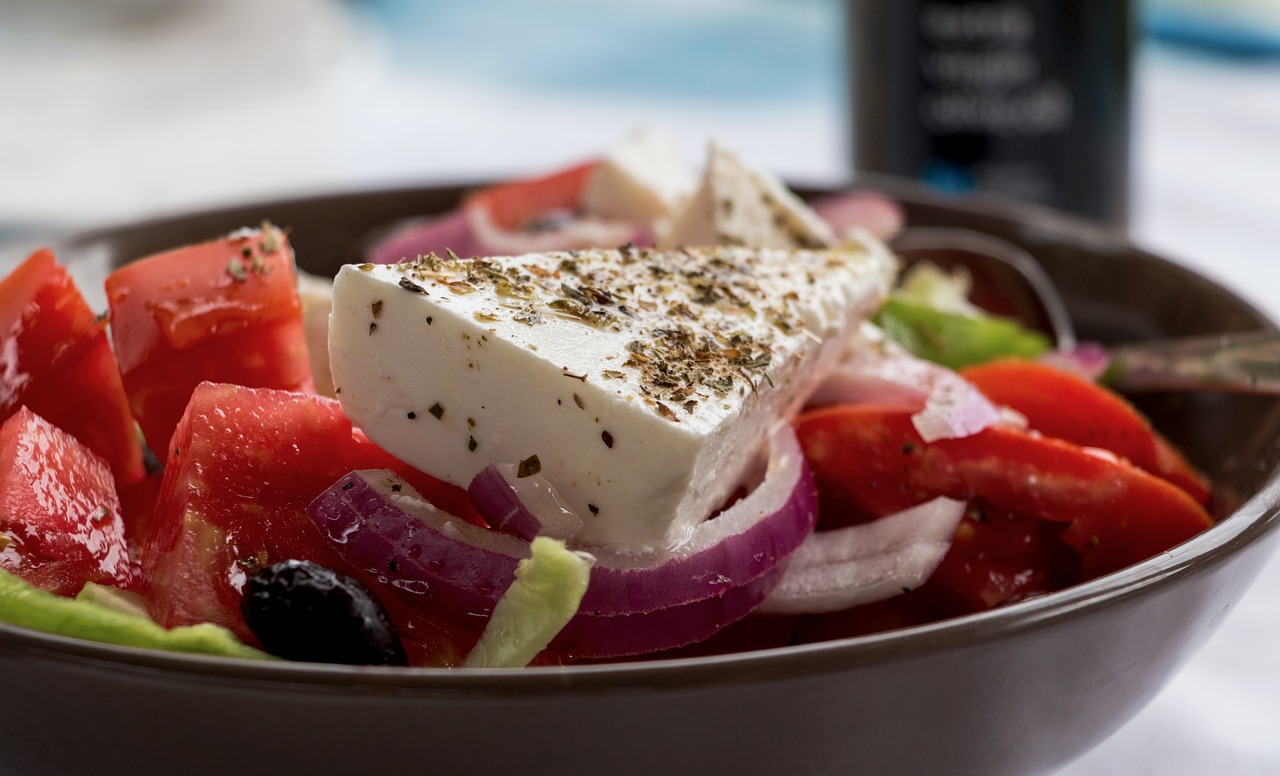 A Greek salad (horiatiki) is a good way to start any meal or is just right for a light lunch. The best horiatiki are plentiful and comprise a marvellous mix of green salad with cucumber, tomatoes and onions, the whole capped with a generous slice of feta cheese sprinkled with herbs. It's also sometimes called a Country Salad or a Peasant Salad.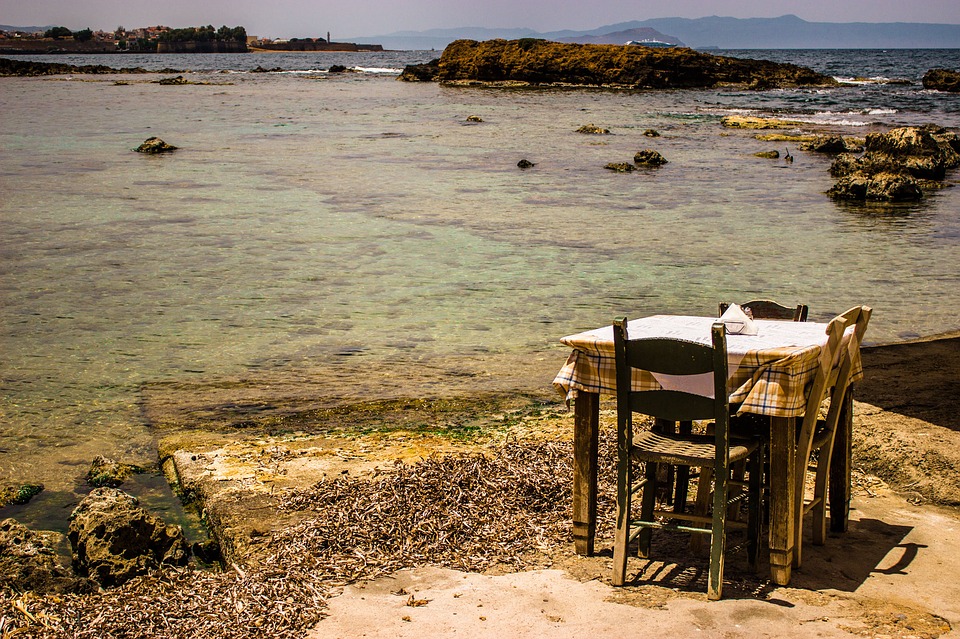 Meat Dishes
Meat dishes on Rhodes follow the Greek standards of moussaka, souvlaki (shish kebab with meat, peppers, onions and tomatoes), pastitsio (lamb or goat meat with macaroni and tomatoes), stifádo (beef stew with tomato sauce and onions) and padakia (grilled lamb or goat chops). 
Some Cool Rhodes Souvenirs
Souvlaki is a good standby, but you might be better settling for chicken (kotópoulo) souvlaki, because veal or pork on the grill can be tough in some tavernas. Lamb souvlaki is usually good but not easily found. Any meat dish that is braised or stewed is usually good.
Fish Dishes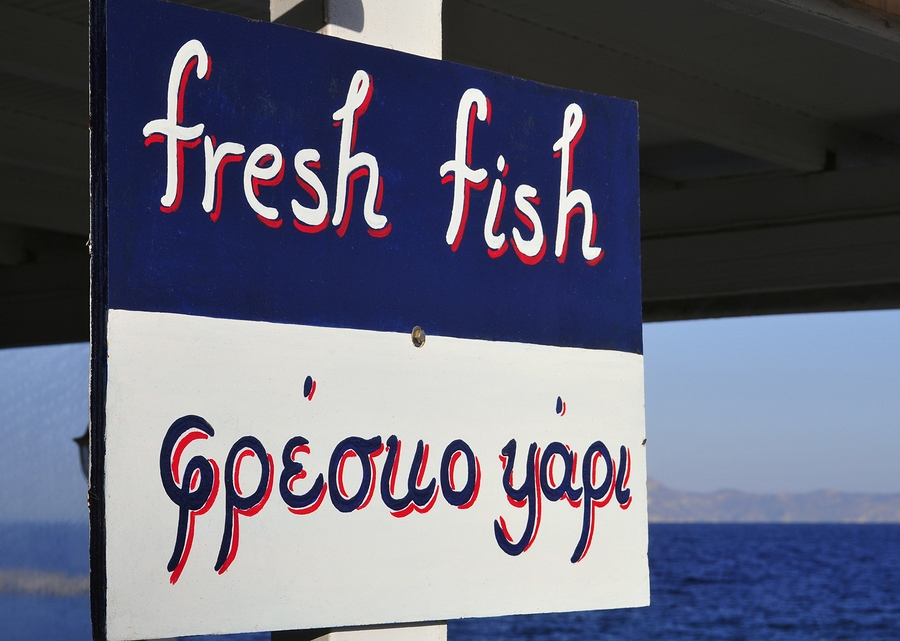 Rhodes has always been noted for its fish and the island boasts some outstanding psarotavernas (fish restaurants). But overfishing, pollution and a general rise in prices has meant that while the choice is still good, fish dishes can often be very expensive. It is also difficult to know whether fish on offer is locally caught or is imported, frozen or farmed versions.
Reasonably-priced dishes include marídhes (whitebait deep-fried in olive oil and sprinkled with lemon), and swordfish, either in meaty steaks or as xsifhia, chunks on a kebab. Kalamarákia (fried baby squid) is another favourite. Red mullet and lobster tend to be more expensive.
Rhodes Wine and Other Drinks
Rhodian wines have a good reputation and provided you are not a wine snob, you will enjoy some excellent vintages from the major island wine producers CAIR and Emery Wineries, the latter based at Embonas. CAIR labels worth trying include Ilios, a dry white wine produced from the Athiri grape; Chevalier de Rhodes, a superior red, and the Moulin range of white, rosé and red wine.
Free tastings are available at the CAIR winery, located a couple of kilometres outside Rhodes town on the Lindos road. Good Emery wines include the Cava red and first-class Chablis-style Villare dry white. Distinctive wines from smaller Rhodian wineries, such as the Anastasia Triantafillou Winery, are available in some island restaurants.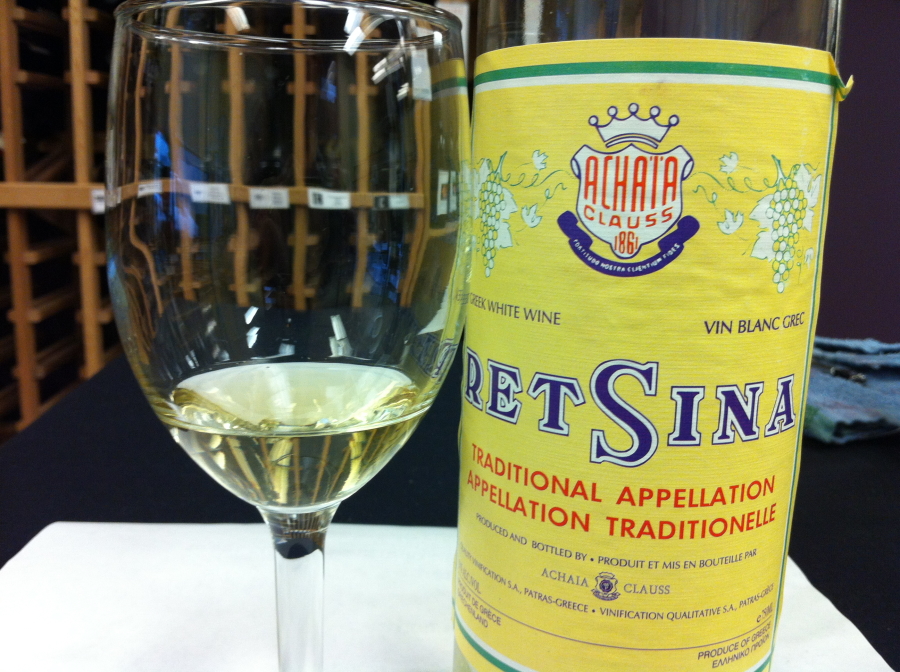 Most tavernas have their own house wine, which can often be reasonable. Retsina, resinated white wine, is an acquired taste but the best is excellent. Kourtaki is a decent retsina to try.
Light beers and lagers, such as Amstel, Heineken and the Greek Mythos, are widely available. Rhodes also now has a few craft breweries and craft beer bars, so ask around if beer is your thing.
Rhodes also has a handful of distilleries, so do ask about these and about local spirits in bars and restaurants.