Welcome to Our Newsletter
Inspiration and information to help with your travel planning for Greece and the Greek islands.
---
Welcome to the latest edition of our newsletter. A friend of ours visited Rhodes this week as part of a Mediterranean cruise she was on. It coincided with us adding a few new Rhodes pages to our site from our own last visit there. So it was obvious what this week's newsletter should be devoted to – Rhodes, the largest island in the Dodecanese.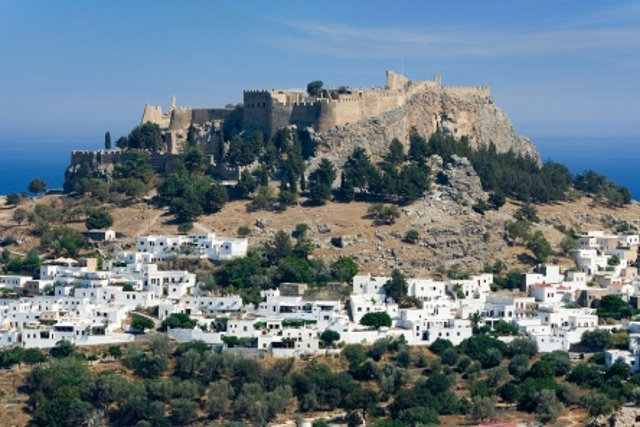 The Town and Acropolis of Lindos on Rhodes
---
RHODES
For an introduction, including the main sights and how to get to Rhodes, see our main Rhodes page.

---
EASTER ON RHODES
Easter in Greece
Easter is a fantastic time of year to visit anywhere in Greece. You should book ahead, though, as it is also a very busy time for travel, and accommodation quickly gets full. If you're thinking about it for next year, then the Greek Orthodox Easter Sunday is April 16th, one week after the western Easter.
One year Mike was staying in Lindos on Rhodes over the Easter period, and was lucky enough to be invited to see how a Greek family celebrates traditionally. You can read about it here:

Mike also experienced Easter on the neighbouring island of Symi, which was quite something:
---
RHODES FESTIVALS AND EVENTS
If you can't make it at Easter, check our list of other festivals and events on Rhodes. Make sure you don't have that experience of someone saying to you: 'Oh, you should have been here last week!'

---
A WALK IN THE OLD TOWN
In the Back Streets of the Old Town
Our friend on the cruise was enchanted by the Old Town in Rhodes Town, which is hardly surprising, but was sorry she hadn't taken a copy of our suggested walk with her. Her group kept to the busiest places, and she didn't get to explore the atmospheric back streets. What a shame. Take a look at our walk, and it includes a link to a PDF version so you can print out just the text and carry it with you for directions.

---
OTTOMAN RHODES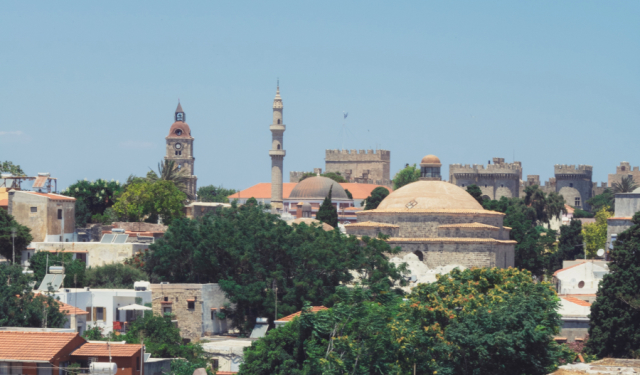 The Mosque of Suleiman in Rhodes Town
This is only a short page but highlights some of the lovely old mosques that exist in Rhodes Town, and a Muslim cemetery with the villa where the author Lawrence Durrell once lived. His book about Rhodes, Reflections on a Marine Venus, is a terrific read. And at the moment if you're in the USA it's only $1.99 on the Kindle!

Ottoman Rhodes
Reflections on a Marine Venus
---
WHERE TO STAY IN RHODES TOWN
Our Favourite Hotel in the Old Town of Rhodes
Some of those old town back streets hide a few of the best hotels in the city, built in grand old mansions. One dates back to 1300 AD! In fact, it's our favourite place to stay in Rhodes Town. Find out the name of it here:

Where to Stay in Rhodes Town

And that's it till next time. Thanks for subscribing!
---
Subscribe to the Newsletter If someone forwarded this to you and you'd like to subscribe for yourself, please visit our website and look for the Newsletter sign-up box.

Please Forward If you know someone else who might enjoy our Newsletter, please forward a copy to them and encourage them to subscribe.

Unsubscribe mike@greece-travel-secrets.com