Driving in Greece Practical Information
Driving in Greece
Practical Information
Driving in Greece can seem daunting, especially in the big cities like Athens, but having some practical information helps. Out in rural areas it is much more pleasant, and if you want to explore the best bits of the Greek mainland or get off-the-beaten-track on large islands like Crete, a car is essential. 

We are big fans of bus travel, and Greece has a good bus network, but you simply can't get to some of the more remote archaeological sites by bus, or into some of the wilder and most beautiful regions. Going by bus is also a way to experience real life in Greece, but when driving we've also picked up many hitchhikers and got to know people personally, even being invited into their homes to thank us for the lift. And we certainly had a lot of fun when we rented a car in Crete!
Watch Out for Occasional Road Hazards
Photo by Donna Dailey
Driving in Greece is a lot more pleasant, though, if you know the rules and conventions. Here is some practical information to help you on your way. The information is accurate at the time of writing, but we can take no responsibility of the rules change before we can change them on the website. If something is important, double-check with one of the sources listed near the end.

A Long and Winding Road in Crete
Photo by Donna Dailey
Driving Accidents
Greece has one of the worst driving records in Europe. There are more deaths on the road here than almost anywhere else. Usually only Portugal has a worse safety record. You should therefore always drive with caution. Greeks have a liking for driving down the middle of the road, even when coming around blind corners.

Passing Lanes

On many major roads you will see a solid white line on the passenger's side of the vehicle. When driving normally you should stay outside the line, but you should pull in over the line if someone wishes to overtake you.

Driving Licence
You need a full European driving licence to drive in Greece, and if you plan to rent a car the minimum age requirement varies from company to company, but is usually from about 21 to 25. If you don't have an EU licence then technically you need an international driving licence, but in practice this is seldom asked for. If bringing in your own car, then you only need to be 17 and hold a full licence in order to drive, but some of the remote archaeological sites and beautiful places simply can't be reached by bus.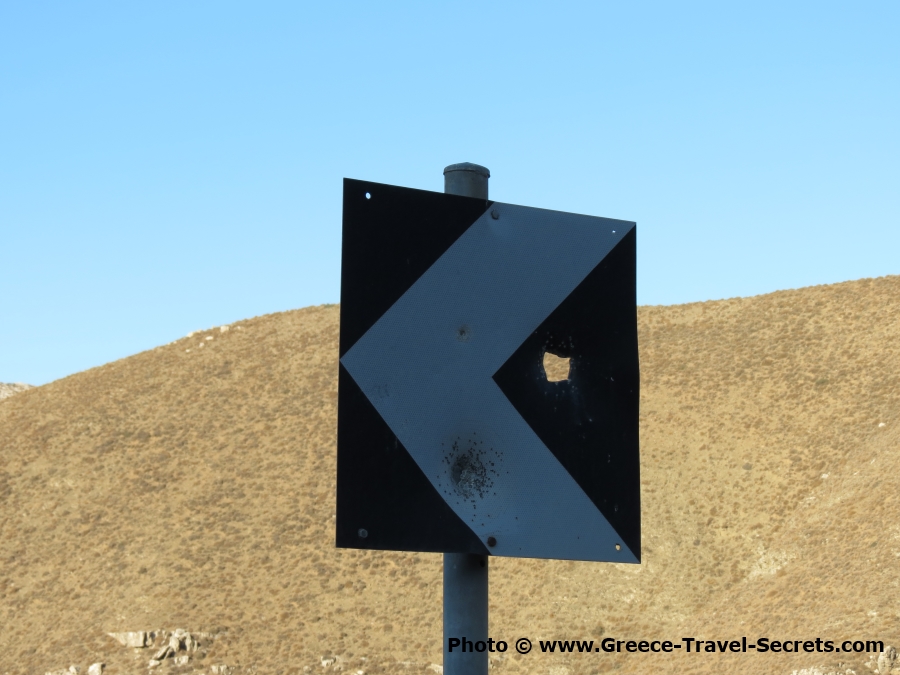 Target Practice on Crete
Photo by Donna Dailey
Drink-driving

A very small amount of alcohol in the blood (currently 0.05%) is a criminal offence, for which you could be jailed. For motorcyclists and those whose licence is less than two years old, there must be no alcohol in the blood whatsoever. Take no chances: don't drink at all.

Speed limits

Speed signs are usually easy to spot. The official limits are: In built-up areas 31mph (50kph) for cars, 24mph (40kph) for motorcycles; outside built-up areas 55mph (90kph) or 68mph (110kph) for cars, 43mph (70kph) for motorcycles; motorways 80mph (130kph) for cars and 55mph (90kph) for motorcycles. Speed limits on the same road can change, so abide by the signs, and also watch for minimum speed limits on some stretches of major roads.

Crash Helmets

Crash helmets are compulsory for motor cycles, even though you will see many Greeks ignoring the law.

Fines

Police can levy on-the-spot fines for driving offences such as speeding, but they are not allowed to collect the money there and then. You must pay at the nearest Public Treasury office within ten days.

Petrol

Only in more remote places might you struggle to find a petrol station, although be sure to have a full tank before setting off on any of the drives described. Only unleaded petrol is available, along with a lead replacement petrol for older cars using leaded fuel. All rental cars will take unleaded petrol. Most filling stations will take credit cards, but always have enough cash with you too if driving off the beaten track. Many petrol stations close on Sundays, and some on Saturdays too, so always be aware of this. You should also note that it is illegal in Greece to carry petrol in a can in the car.

Car Insurance
You must have at least third-party insurance, and if hiring a car check what insurance is included. You should consider adding CDW (Collision Damage Waiver) insurance if you don't want to be charged for damage in the case of an accident or another car or person damaging your vehicle.

When the End Is in Sight
Photo by Donna Dailey
Children

Children under the age of ten cannot travel in the front seat without a suitable seat restraint. Children aged five and under must use an appropriate seat restraint at all times. The subject of children in cars is highly regulated in Greece, and if you plan to travel with a child check in advance that your car will have the right seat restraints, and check with your car rental company when collecting the car too.

Flashing Headlights

In many European countries, including the UK, if another driver flashes his lights at you it is normally a sign that he is kindly giving way to you and you should proceed. In Greece it is the opposite. Flashing headlights means 'I'm coming through, get out of the way'.