The Greek Gods
Gaze at the highest mountain in Greece, Mount Olympus, which rises dramatically from close to the Aegean Sea, and it is easy to understand how it was regarded as the home of the Greek Gods. The full stories of the Greek Gods have inspired many books, one of the standard works being The Greek Myths by English poet and scholar Robert Graves (1895-1985).

The stories of the Gods were originally oral tales, passed on in the way that the Homeric legends of The Iliad and The Odyssey were, by a skilled story-teller to a rapt audience. They were not written down until about the 6th century BC, and subsequently we have been able to compare similarities in the tales of the Greek Gods with tales of Gods from other countries.

In Greece the Gods are not part of the nation's modern religious beliefs, which are Christian, but they are bound up in the folk tales and legends of the country's pre-history, in dramatic fashion.
Where the stories came from is uncertain, but it is likely that many different strands were involved. One such was Hesiod, an 8th century BC Greek poet who, at the same time that Homer was relating/creating his own two epic verses, was responsible for Theogeny, a poetic work which tells 'the origin of the Gods'. This would have been influenced by tales from other cultures which made their way to Greece, particularly from the Near East, and by tales handed down by the Mycenean civilisation which was dominant in Greece in the 2nd Millennium BC.
Zeus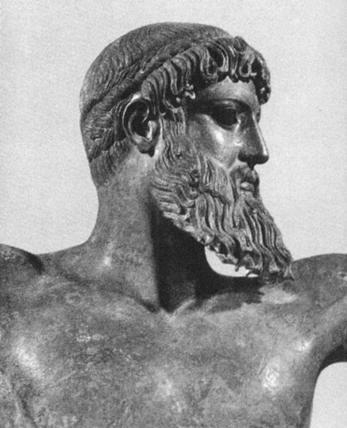 Zeus
The Father of the Gods is Zeus, who ruled over all the Gods from Mount Olympus. Zeus was the youngest son of two of the Titans, Kronos and Rhea, the Titans being the 12 children of Uranus and Gaea, the Heaven and the Earth. It was Zeus who seized control of the universe and became the God of the Sky, the Rain God, and Father of all later Gods and mortals.

Poseidon
Poseidon
One of Zeus's brothers was Poseidon, who became the God of the Sea and was the father of the winged horse, Pegasus. Poseidon fathered many children, susceptible as he was to the charms of the numerous water nymphs that existed. Another of Zeus's brothers was Hades, the God of the Underworld, so between them these three brothers took command of the sky, the sea and the land of the dead.

Zeus's son Apollo was the God of Music, of Agriculture, of Healing and of Prophecy, amongst many other things, while Dionysos is another familiar name in Greece – the God of Wine. To the Romans he was Bacchus, and the Roman Hercules is the Greek Herakles, whose Twelve Labours are among the best-remembered of Greek myths. Finally, amongst these best-known of the Gods, is Aphrodite, the Goddess of Love and Beauty, who to the Romans was known as Venus.