Best Beaches on Skiathos
The best beaches on Skiathos are easily the best in the Sporades, and also some of the best in the Greek islands, ranging from busy and crowded to quiet and remote beaches.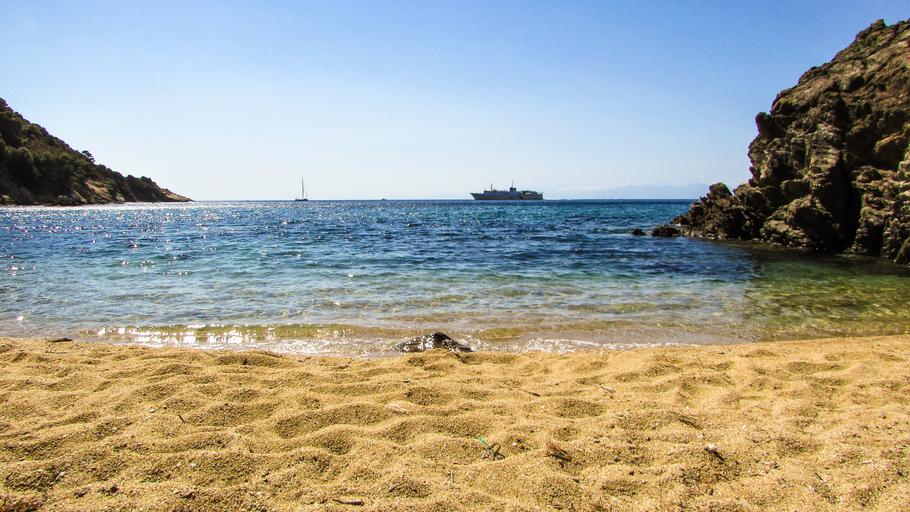 The excellent beaches are just one of the many reasons that holidaymakers flock to Skiathos, more so than the other Sporades islands. In fact it's one of the busiest islands in Greece. This does mean that its beaches get very crowded, especially in the summer months, and that's what a lot of people want. A crowded and busy beach means more facilities like watersports, beach bars, and tavernas.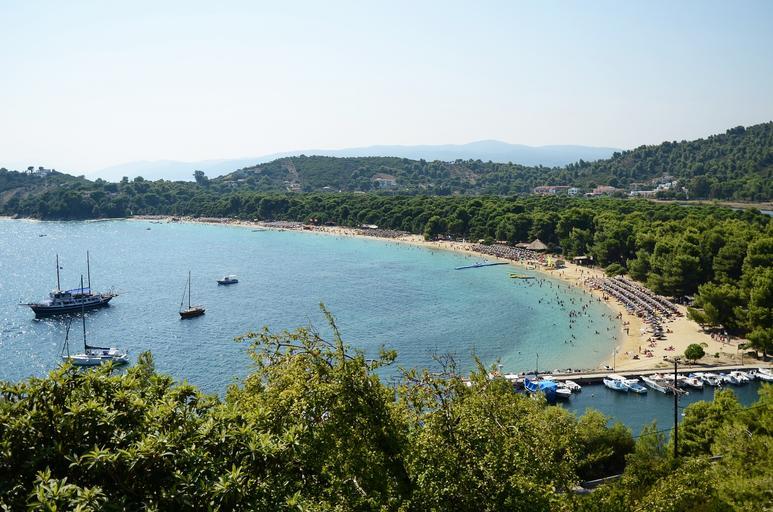 How to Get to the Best Beaches on Skiathos
The bus which goes around the island stops at the main resorts and main beaches, which is why some of them get so busy. Others are easily reached by car, so if you want a bit of privacy and quiet you should aim for the beaches that are hardest to get to, or have no easy road access.
Apart from hiking to them, you could also hire a boat as some beaches can only be reached by sea. Alternatively you could hire someone with a boat to take you there and call back for you later on. This can be a bit nerve-wracking, as the Greeks don't exactly have a good reputation for punctuality, and you might begin to worry you'll be stranded... but most are happy for you to pay them at the end, so you can be confident they will return for you.
Meltemi Wind
One problem the beaches on the north side of the island have is that this is the direction that the summer meltemi wind comes from. As well as being uncomfortable, they can prevent boats from sailing. If you book in advance on a boat to take you to Lalaria Beach, for example, because you want to see the best beach on Skiathos, and the meltemi blows up on the day you're booked to travel, the boat may have to take you to another beach that is sheltered from the meltemi.
The meltemi wind mainly blows up in the afternoon, so even if there's no wind in the morning, the boat owner will have checked the weather forecast in the afternoon, and if a strong wind is coming he can't take the chance of leaving you stranded so he will have to make alternative arrangements. You can use a weather app yourself, or an app like Windfinder, to help you plan your beach visit.
Skiathos is said to have over 60 beaches in all, so that does mean that there are also quieter beaches in more remote parts of the island, so there should be a beach on Skiathos to suit everyone. Here are some of the best beaches on Skiathos to choose from, in alphabetical order.
Aselinos Beach
Aselinos Beach is actually two beaches, Megalos (Big) and Mikro (Small), and they're about a 25-minute drive from Skiathos Town around on the north-west coast. They're both sandy beaches, and the bigger one has a bar and taverna, with the smaller beach being much quieter. Bear in mind that because of the hilly terrain, you can't easily walk between the two beaches so pick your spot. If you want the quieter beach, take your supplies with you.
Kastro Beach 
Kastro Beach is a small beach in the north of the island, a mix of sand and rocks, and with coves to explore. It's just to the west of Lalaria Beach and some boats from Skiathos Town offer you the chance to make a visit to Kastro Beach before going on to Lalaria Beach. You might want to take this option as there's a bar at Kastro Beach, and there's also the ruins of an old town up the hill behind the beach.

Lalaria Beach 
Lalaria Beach is at almost the northern tip of the island and is arguably the very best of the beaches on Skiathos. With its rocky backdrop it's often used in posters to help attract visitors to Skiathos for its beaches. The backdrop, though, means that there is no way to get down to the beach on foot so you'll have to take a boat. Water-taxis take people there and back twice daily from Skiathos Town, though, so that's not a problem. The trip takes about 40 minutes.

Lalaria Beach is made up of white sandy pebbles, which is very pretty but make sure you have something comfortable to lie on. You will also need to take all your provisions with you, as there's nothing there. There's no shade either, so take an umbrella, although in the afternoon the rocks start to shade the beach.

Maratha Beach
Maratha Beach is on Skiathos's south-west coast and is about a 20-minute drive from Skiathos Town, or you could take the bus. It's a 25-minute walk from Troulos (see below), so if you don't want to take food and water with you it's easy enough to get to Troulos to eat and drink. Maratha Beach does have a beach bar and sunbeds to hire.
Megas Gialos Beach
Despite the fact that it's only a 10-minute drive from Skiathos Town, this remains fairly quiet, despite it definitely being one of the best beaches on Skiathos. You can also walk there in under an hour. There are no facilities so you'll have to take everything with you, and it's not far from the airport so does get some noise. It's a mix of sand and pebbles and is also popular with nudists. It's also popular with divers and snorkelers.

Troulos Beach
Troulos Beach is in the village of Troulos and is one of the most popular on the island. It's a 15-minute drive west from Skiathos Town, or you can get there by bus. It's also walkable, though it will take you two hours. It's a sandy beach with umbrellas, loungers, watersports, and eating options.

Tsougrias Beach 
Tsougrias Beach is an attractive beach on Tsougrias Island, which is just over 2 miles (3.5 kms) south of Skiathos Town, where you can get a boat to take you there and back. It has some small beach bars and sun beds and umbrellas you can rent. 

Vromolimnos Beach
Vromolimnos Beach is on the south coast, which where most of the busiest and best Skiathos beaches are. This one is a 15-minute drive south-west from Skiathos Town, and is also on the local bus route. It has a taverna, sun beds to rent, and you can also rent surfboards, paddle boards, and water skis etc. 
These are a good cross-section of some of the best beaches on Skiathos, but remember that there are several dozen more to discover!