Dion
Ancient Site, Sacred City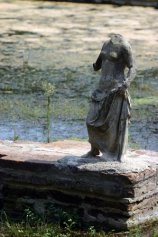 A short drive from Litóchoro, the base for visiting Mount Olympus, and an hour's drive from Thessaloniki, is the village of Dion, whose name derives from the word 'dios', or 'of Zeus'. In the centre of the village there is an excellent small Archaeological Museum that displays finds from the site of Ancient Dion, which is found on the edge of the village. Visiting the Museum first will help in understanding the site, and explanatory videos are available in several languages showing the site's excavation and explaining its significance.
Ancient and Sacred City
Some of the best finds are statues that have been beautifully preserved when the ancient city was covered in mud after an earthquake. It was a considerable city, too, home to about 15,000 people in the 4th century BC when it was regarded as a sacred city by the Macedonians. The remains that can be seen today, however, are mostly from the later Roman era and include a fine example of a Roman bath house. There are also the remains of a theatre and a stadium, and the site is well laid-out and signposted. Elsewhere there are the remnants of houses both humble and grand, including a splendid mosaic remaining in what was once a banqueting hall.
Sanctuary to Isis
Be sure not to miss the part of the site that is across the road from the main area. Here is a Sanctuary to the Egyptian Goddess, Isis, and copies of original statues from the site stand white against the lush greenery around a small pond. It is a lovely and peaceful spot, with its magical setting between mountains and sea. Greece has many wonderful archaeological sites but there is undeniably something special and unusual about Dion.
---
DION ARCHAEOLOGICAL SITE ON YOUTUBE
Watch this video about Dion to see what to expect


---
INTERACTIVE GOOGLE MAP OF THE DRIVE
FROM THESSALONIKI TO DION
View Larger Map
---
---
Easter in Athens is, like Easter everywhere in Greece, the biggest religious celebration of the year and this page on Greece Travel Secrets tells you what to expect over the Easter weekend.

Peter Sommer Travels has a great trip on offer that enables you to get a real experience of Easter in Athens from 2-9 April 2018. This is what they say: "Explore ancient Athens and experience a tradit…

Athens culinary tours are among the food walking tours offered by an unusual company, Culinary Backstreets.