Argos
Argos is one of the top archaeological sites in the Peloponnese, one of the oldest cities in Europe, and with museums and a theatre bigger than Epidavros.
Argos as Seen from Larissa Castle
Photo by George E. Koronaios
This file is licensed under the Creative Commons Attribution 1.0 Unported license.
Argos's claim to fame is that it is the oldest continuously-inhabited city in the whole of Europe, and one of the oldest in the world. A village was known to be here over 7,000 years ago and the place has been inhabited ever since.
It has a lovely setting at the foot of Mount Chaon, and although it's not really a major name on the tourist trail it has plenty to see and reward a day or two's visit.
Where Is Argos?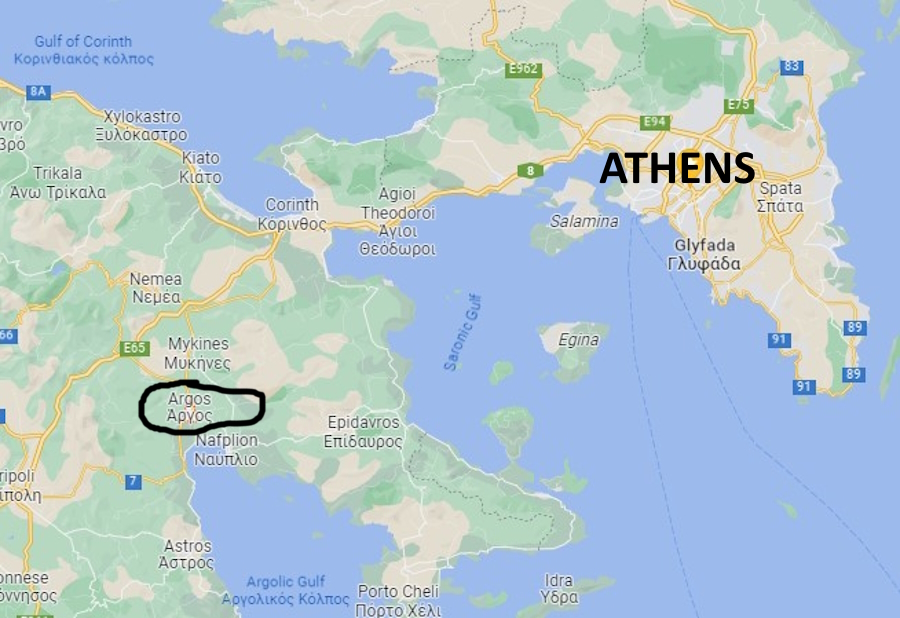 Map (c) Google Maps
Argos is in the north-east Peloponnese, in the Argolis region, to the west of the Argolid Peninsula. It's a 90-minute drive south-west of Athens, or closer to two hours if you're driving from the airport. It makes a good base for visiting the major sites in this corner of the Peloponnese, as it's not far from Epidavros (a 40-minute drive), Mycenae (20 minutes), Nafplion (15 minutes), Tiryns (10 minutes), and Corinth (45 minutes).
Argos Archaeological Sites

There is no one single archaeological site, but the various archaeological remains are spread throughout the modern city. This makes it unusual, seeing the different layers of life in different places as you move around town. Most archaeological sites in Greece are slightly away from the modern cities which grew up nearby, and everything is in the one place.
Other Argos Sites

Argos has some Roman baths, and a theater that is actually bigger than the more famous one at Epidavros, which is about a 40-minute drive to the east. It could seat up to 20,000 people. Looking at the ruins now it's hard to imagine just what these theatres would have been like when operating. The orchestra stalls here could be flooded to enable naval battles to be acted out in front of the stage, with action going on behind. Quite a spectacle.
This file is licensed under the Creative Commons Attribution 3.0 Unported license.

There's also an acropolis, an ancient agora, and the very unusual Pyramid of Hellinikon. There are several of these in Greece, and although no-one knows for sure what they were used for, it's thought they may have been inspired by the pyramids in Egypt.
Argos Museums

Argos Archaeological Museum

The town's Archaeological Museum is on the main square, Agios Petros Square, and is well worth a visit, especially after a 3.1 million euro upgrade and expansion into two buildings in 2023. It has good collections of ceramics, statues, and bronze armour, and these are now beautifully lit and displayed, with lots of space.
Argos Epigraphic Museum

This new museum, opened in 2023, is a 2-minute walk east of the Archaeological Museum, and housed in the Kapodistrias Barracks, an impressive building worth seeing in itself. At first it might sound a little specialised, containing only tablets and stone inscriptions, but it reveals ancient life in and around Argos in fascinating detail. Some of the bronze tablets go back to the 4th century BC and are considered to be of international historic significance.
Where to Stay in Argos