Athens in the Rain
Athens in the rain? This is hardly likely to be a problem in the summer months, but it does rain in Athens. Most rain in Athens falls in the winter, but sometimes there can be rain in the spring and autumn too, so it's as well to have some ideas of what to do if it happens.

Fortunately Athens has plenty of museums, and in some ways you can regard rain as a blessing – having to be indoors in a museum in the sunshine can sometimes seem like a waste of good weather. Not so when the rain is battering the pavements.
Athens in the Rain: Museums
If it rained from dawn till dusk, you could probably spend all that time in the National Archaeological Museum and not get bored. Most people would probably prefer a little variety, though, in which case there are two areas to head for in a downpour. One is the Plaka, where as well as sheltering in shops there are also several museums to explore, including the Museum of Greek Folk Art, Museum of Greek Musical Instruments, the Kanellopoulos Museum, the Jewish Museum of Greece, and also several churches, including both the new and old cathedrals on the edge of the Plaka.
Otherwise make for Vassilisis Sophias, the main street which runs from Syntagma Square past the north side of the Parliament building. Here you'll find in close proximity the Benaki Museum, the Museum of Cycladic Art, the Byzantine and Christian Museum, the War Museum and the National Gallery, which should provide something for everyone.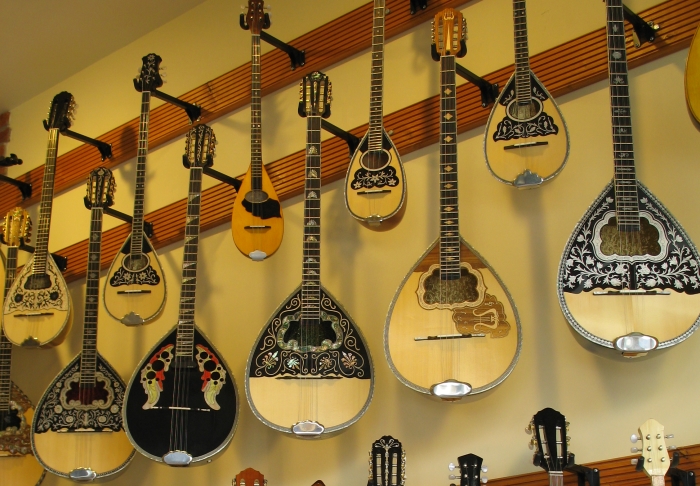 You can always go shopping when it rains.
Musical instrument shop in the Plaka (Photo (c) Donna Dailey)
Go Shopping in Athens in the Rain
If you prefer couture to culture, the shops in the Kolonaki district, immediately north of Vasilissis Sophias, will keep you occupied. For more basic high-street shopping, the pedestrianised Ermou will keep you both out of the traffic and mostly out of the rain.
Go See a Movie
If you don't trust yourself to keep control of your credit card, a cheaper option to keep you dry is to visit one of the city's numerous cinemas. Here films are almost always shown in their original language, with Greek subtitles, so look on a rainy day as a chance to catch up on one of the latest releases.
Don't miss this visual tour of Athens with photos by Donna Dailey of Greece Travel Secrets.