Entertainment in Athens

There's all kinds of entertainment in Athens whether you're interested in theatre, dance, classical music, jazz, Greek music, rock music, disco, opera or movies.
Here's a brief overview of some of the things that are available.

Theatre, Dance and Classical Music

The Greek National Theatre in Athens
A Performance of Don Quixote
While Athens has a lively theatre scene and a National Theatre company, most performances are in the Greek language. You might get to see a visiting theatre group, if you check the listings (see below) while you're there. There is also a Greek National Opera company, and several halls putting on classical concerts. Dance is popular too, from contemporary work to classical ballet to Greek traditional dance, notably at the very popular Dora Stratou Theatre at the foot of Filopappou Hill.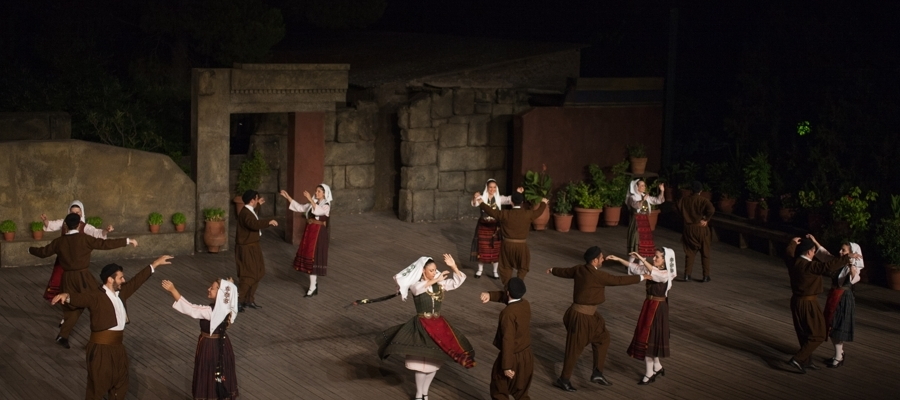 The Dora Stratou Dance Group
Bars, Discos and Clubs
Athenians like to have a good time and the city has as many bars, clubs and discos as anywhere else. These range from intimate venues which might play a little soft jazz to huge barns of discos pumping out hip-hop at shattering levels.
Because of the noise factor, and the summer heat, during the hot months some clubs close down because the customers prefer to head out to the open-air venues in the city's beach-resort suburbs.
In the bars and clubs every kind of music is catered for (jazz, blues, rock, reggae, '60s, world music) but it's advisable to check the local listings magazines as while some clubs are devoted to one kind of music, other have different styles on different nights. You don't want to go along to a great reggae club and find that it's '60s night.
There are fewer choices available in the summer, partly due to the air-conditioning question and partly due to musicians going out to the Greek islands to work the much busier tourist resorts there.
Movie Entertainment in Athens
There are plenty of cinemas all over Athens, showing the major international releases in the original language, with Greek sub-titles. They tend to be fairly inexpensive, and programmes can be found in any of the city's several listings magazines. In summer many of these close down, unless they have good air-conditioning, and open-air cinemas spring up to take their place.
These tend to show second-run movies and old black-and-white films, and are very much social occasions. People talk a lot, as they are not listening to the foreign soundtrack, which can make it hard for foreign visitors who are desperately trying to hear what's going on!
Late-night showings usually have the sound turned down anyway, to avoid disturbing the neighbourhood. But it is all certainly a very Athenian experience. You can usually find one or two open-air cinemas in and around the Plaka, while the conventional ones are all over the city, with several along Stadio, Akadimias and Panepistimou Streets (also known as Venizelou).

Buying Tickets for Entertainment in Athens
Apart from obviously going to the venue itself, the easiest way to get concert and other tickets is to go into almost any of the big central record shops and buy them there. They are also a good source of information, with adverts and flyers for concerts and clubs.
Information Sources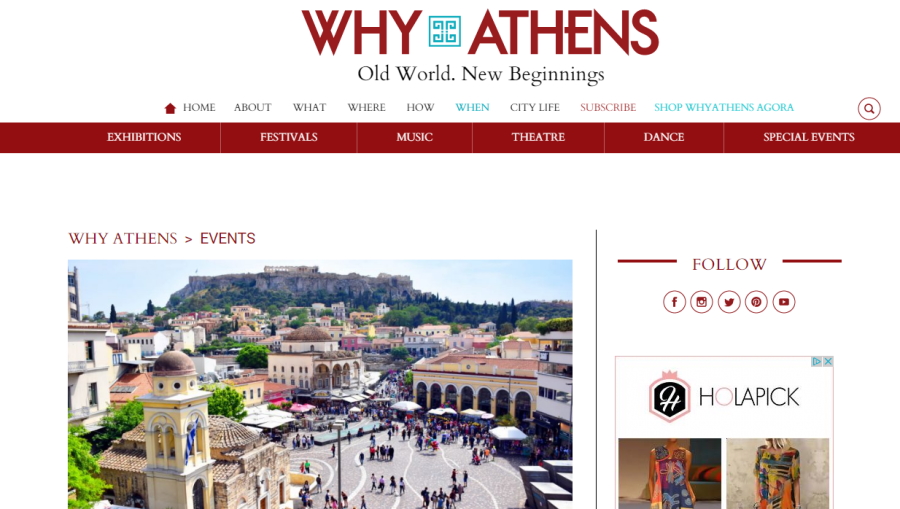 The Why Athens Website
The best source of entertainment information is Athinorama magazine, published every Friday. This is in Greek but is still useful as names of films, bands, programme times etc are all in English. There's also an online version, which you can use an app or a browser like Chrome to translate for you. A phrase book which includes the days of the week should help out too.
There are plenty of other online sources too. The  What's On section on the Ekathimerini website, Athens24.com, This is Athens and WhyAthens.com are all good sources of information about entertainment in Athens.