Delos
Cyclades Islands
Just over two kilometers from Mykonos is the holy island of Delos. This can only be visited by means of a day trip from Mykonos as it is uninhabited and no one is allowed to stay overnight for fear of damage to what is one of the most priceless archaeological sites in Greece. 

The Terrace of Lions on Delos
Delos or Dilos?
You'll find the island referred to as both Dilos and Delos. Delos is the most common English way of writing it, but in the original Greek the word is spelled Dilos.

The History of Delos
Like many of the other Cycladic islands, Delos was inhabited by the Ionians who arrived here in about 1000 BC, although it was probably first settled over a thousand years earlier by migrants from Asia Minor.
The Ionians made Delos their religious capital and dedicated it to the god Apollo, who was the father of Ion after whom they took their name. They began an annual Delia Festival of arts and sports in honour of Apollo and by 700 BC Delos was a major pilgrimage centre, like Delphi on the mainland. From this it developed into a successful port, but after the Romans left it fell into decline and became a hideaway for pirates but otherwise uninhabited. 
Today Delos remains unique in Greece, cut off from the world, its ruins spread over a large area and giving a good idea of what the island must have been like in its prime. Its most famous sight is the Lion Terrace, originally nine beasts overlooking and protecting the Sacred Lake, so-called because the Lake was said to have witnessed the birth of Apollo on this very island. The lions were made of marble from nearby Naxos in the 7th century BC, though only five lions have survived the ravages of time. The original ones were removed and placed in the Archaeological Museum, leaving replicas to guard the now-dry lake.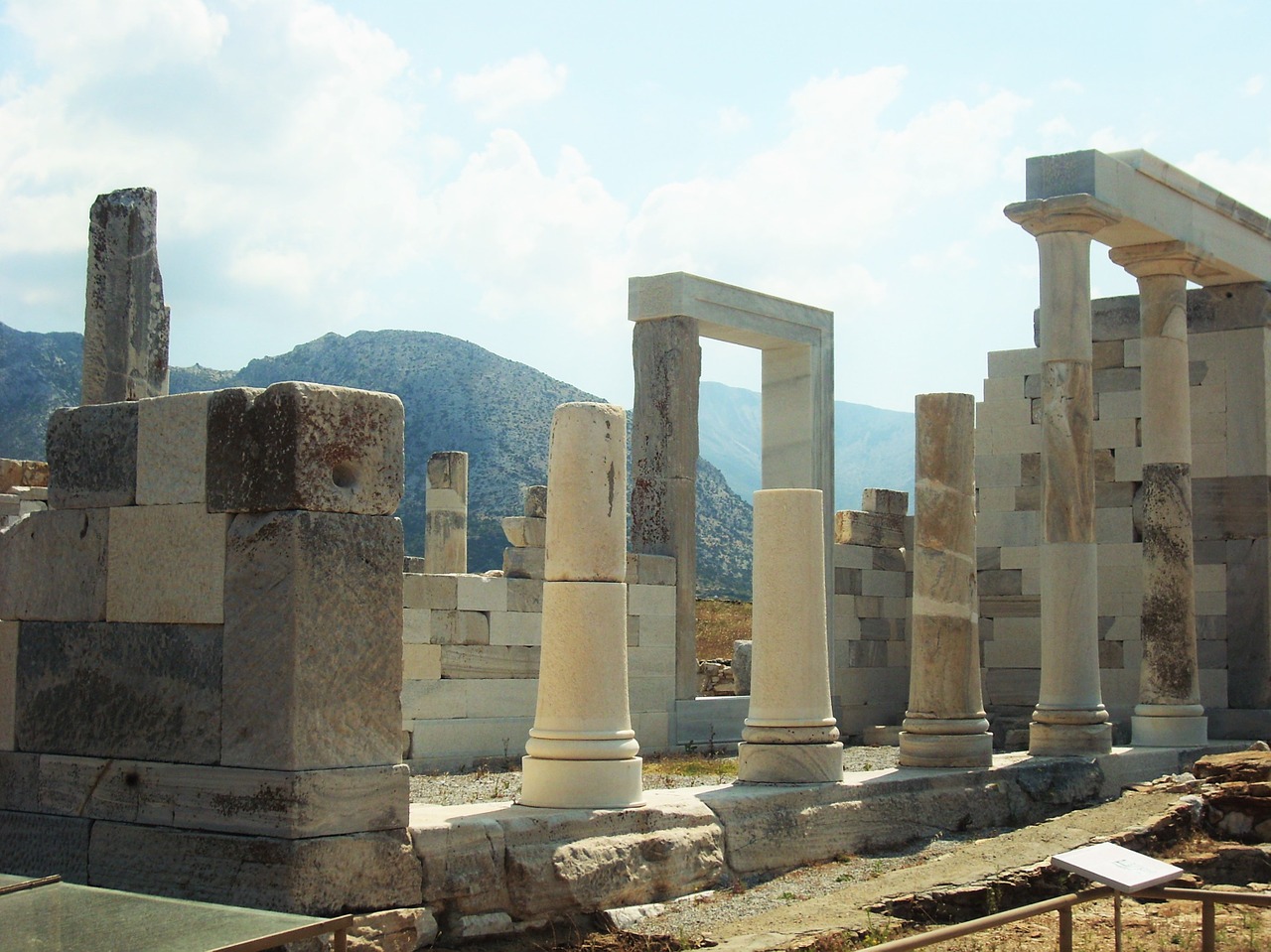 Other Delos Highlights
Other highlights include a theatre from 300 BC, beautiful mosaics in houses such as the House of the Dolphins and the House of Dionysos, a large theatre, and the Sanctuary of Apollo, with the remains of three temples alongside each other. It is a site that merits as much time as you can give it. 
Visiting Delos
Boats leave Mykonos in the early morning and allow visitors to stay on Delos for a few hours before returning before the site closes, usually in mid-afternoon. There is only a small cafe on the island with limited choice of food and drinks so take some supplies with you, especially water as there is precious little shade.