Tinos
The island of Tinos in the Cyclades has several daily ferry connections from Rafina on the Greek mainland and is most famous for the Feast of the Assumption.

Tinos Town
Tinos Town is a typical Cycladic island capital, with a busy little port and narrow streets zigzagging through blindingly whitewashed buildings. There are several ferries a day to Tinos from the mainland port of Rafina.
Tinos has an Archaeological Museum with a very rich collection for such a comparatively small island that lacks any major sites. The major one is the Sanctuary of Poseidon and Amphitrite, a few kilometers west of Tinos Town and built in the 4th century BC.

Tinos Pilgrimages

To all Greeks Tinos is known for just one thing: the Church of the Panagia Evengelistria, or the Annunciation. On August 15th, the Feast of the Assumption of the Virgin and a national holiday in Greece, Tinos is packed full of pilgrims who come to pray to a miraculous icon. Many of them crawl on hands and knees up the main street that leads to the church and is lined with stalls and shops selling candles, icons and votive offerings. The icon is paraded through the streets, which also happens on the Feast of the Assumption, March 25th, another national holiday and also Independence Day.
The Nun's Vision

A nun at the convent of Moni Kechrovouniou, in the hills above Tinos Town, had visions of the Virgin Mary in 1822, the Virgin telling her where an icon lay buried. When the nun's directions were followed, an icon showing the Annunciation of the Archangel Gabriel was found, which had lay buried for 850 years and yet remained in good condition. It was believed to have healing powers, hence the many pilgrims include people in need of healing, with Tinos being a Greek Orthodox equivalent of the holy shrine at Lourdes. If you want to be on Tinos on either March 25th or August 15th, you will need to plan well in advance as ferries and accommodation will both be fully booked.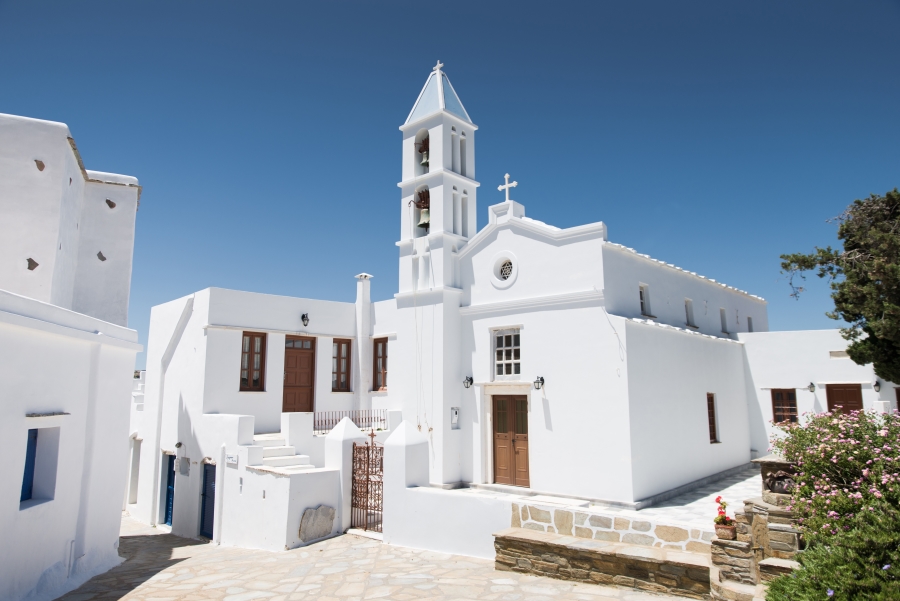 Getting to Tinos
Flights to Tinos
Tinos does not have an airport so you will need to fly to Athens or to one of the islands with ferry connections to Tinos. The closest is Mykonos.
Ferries to Tinos

There are several fast ferry connections per day between Rafina and Tinos with a journey time of 1 hour 40 minutes. Slower and cheaper ferries take 4 hours. 
There are several ferries a week from Piraeus, with a journey time of just under 5 hours.
There are ferries from several other islands in the Cyclades, the closest being Mykonos (15 minutes).
Ferries in Greece
Ferries in Greece has an excellent and very thorough website where, in addition to checking ferry schedules and times, you can also book tickets and get lots of useful information about travelling by ferry in Greece.