Anafi
Cyclades Islands
Anafi in the Cyclades is truly one of Greece's travel secrets. Its nearest neighbour is the island of Santorini, which is about a 2-hour ferry ride away to the west, while Athens is about 155 nautical miles away. The permanent population is only a few hundred, but this is swollen in summer by those lucky travelers who have already uncovered the secret.
Flights to Anafi
There are no direct flights to Anafi. The best way to get there is to book a flight to nearby Santorini and take a ferry from there.

Ferries To Anafi
Anafi is the end of the line for ferry routes, but in summer there are good connections with other islands. These include Paros, Naxos, Santorini, Mykonos and Ios. There are also ferries to Piraeus, the port of Athens, several times a week, and these call at many of the other Cyclades islands on the way. The ferries to Santorini (Thira) are almost every day, but there are no ferry connections eastward to any of the Dodecanese islands, or south to Crete.
Greek Ferry Information and Booking Tickets
There's a really comprehensive guide to Greek ferries, including suggested itineraries, guides to the different island groups, advice about cars on ferries, the differences between fast and convenient ferries, taking your dog on a ferry, printing your ticket and e-ticketing, and a much-needed guide to the port of Piraeus, on the Aferry website.

You can also book tickets online.
Where to Stay on Anafi
There are a few rooms to rent at the harbour, if that's where you want to stay, though there's nothing much else there. Most accommodation is inland and uphill at the main town of Hora, or Chora, where there are plenty of apartments, studios, rooms, or villas. East of the port is the beach at Kleisidi, where there are more rooms and a few places to eat. You can walk there from Hora or the port, or take the island bus which goes a few times a day.
Where to Eat on Anafi
There are places to eat at the harbour, and a wider choice in Hora, with a few more cafe/taverna choices at Kleisidi. Expect simple but good value typical Greek family places, the kind that make eating out in Greece such a pleasure. Gourmet cuisine, no. Fresh fish and hearty salads – yes, and delicious!
Anafi: Good Beaches and Walking
Anafi is a rugged rather than a pretty island, but it's a fair size with most of the population gathered in a handful of places. Otherwise there are farms and little communities here and there, and the rest of the island is great for hiking and for finding lovely sandy beaches, some of them in quiet coves. Footpaths criss-cross the island, and there are some monasteries to walk to as well. The highest peak is Mount Kalamos, which is an impressive 584m/1,916ft.

Further Information
For more information about Anafi, visit the island's own very helpful official website: www.anafi.gr.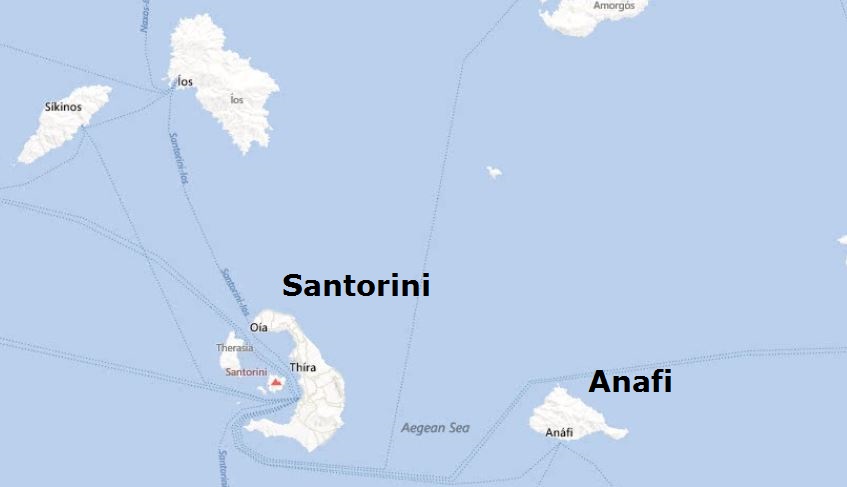 ---
---
Easter in Athens is, like Easter everywhere in Greece, the biggest religious celebration of the year and this page on Greece Travel Secrets tells you what to expect over the Easter weekend.

Peter Sommer Travels has a great trip on offer that enables you to get a real experience of Easter in Athens from 2-9 April 2018. This is what they say: "Explore ancient Athens and experience a tradit…

Athens culinary tours are among the food walking tours offered by an unusual company, Culinary Backstreets.