Milos
Cyclades Islands
Marble from the nearby island of Paros was used to carve one of the most famous and beautiful statues in the world, the Venus de Milo, a statue of Venus found on Milos.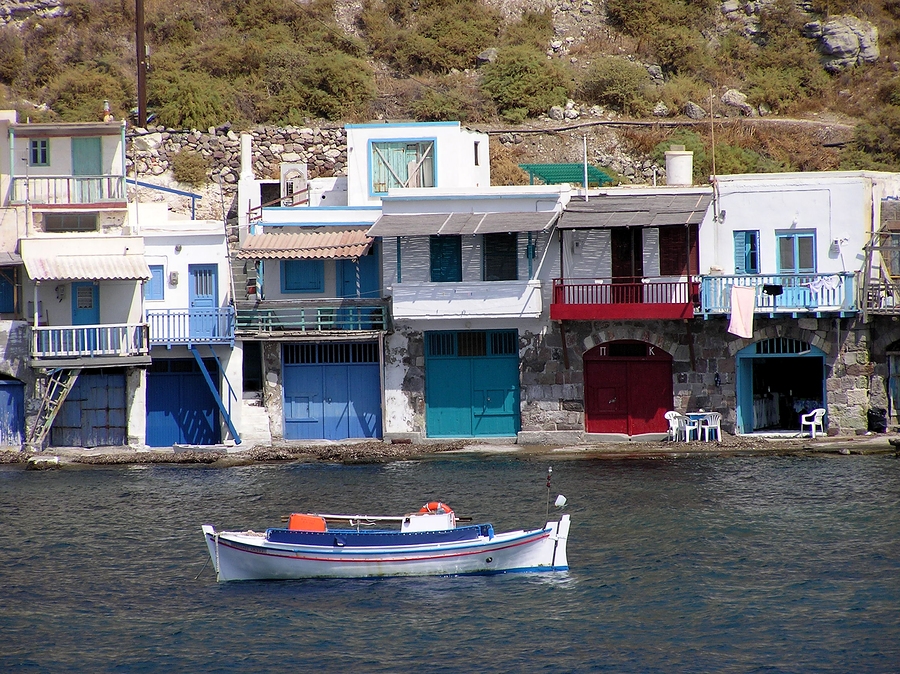 The Venus Found on Milos

 It came to light on 8th April 1820 when a local farmer found a cave in a field he owned, inside which was half of the statue. The other half was soon found and the whole statue was bought the following year as a gift for Louis XVIII, which is how it found its way to its current home in the Louvre. 
The spot where the first half of the statue was found is marked by a plaque close to the Christian Catacombs, in Trypiti. The Catacombs are the only example of their kind in Greece, believed to contain up to 8000 bodies in the 291 tombs that have been discovered.
Photo by Milan Gonda (see more of his photos on our page Photos of Greece).
Milos Museums

Trypiti is almost a suburb of the main town, Plaka, though to talk of suburbs is misleading as the entire island only has a population of less than 5000, boosted in summer by visiting tourists, though not yet in great numbers. Plaka stands on what is thought to be the original acropolis on Milos, dating back to roughly 1100-800BC. 

The Folk Museum tells the island's more recent history, with a good collection of fascinating old photographs alongside the inevitable folk costumes and crafts.  Milos also has an unusual museum for Greece, a Mining Museum, which shows the interesting history of the mining of rocks and minerals on the island. Another of the island's museums is the Ecclesiastical Museum, which is by the waterfront in Adamas and is inside the thousand-year-old church of the Holy Trinity (Ayia Triada).
There is also an Archaeological Museum in Plaka, where visitors are greeted by a copy of the famous Venus, while inside are remains from the island's most significant site, that of Ancient Philakopi. 
Philakopi is towards the north of the island although little remains to be seen as much has been lost to the sea. Two of the finest finds from the site are on show in the National Archaeological Museum in Athens, these being a 4th-century BC statue of Poseidon, and a 6th-century BC kouros, a statue of a young man not fated to achieve quite the same fame as the Venus de Milo.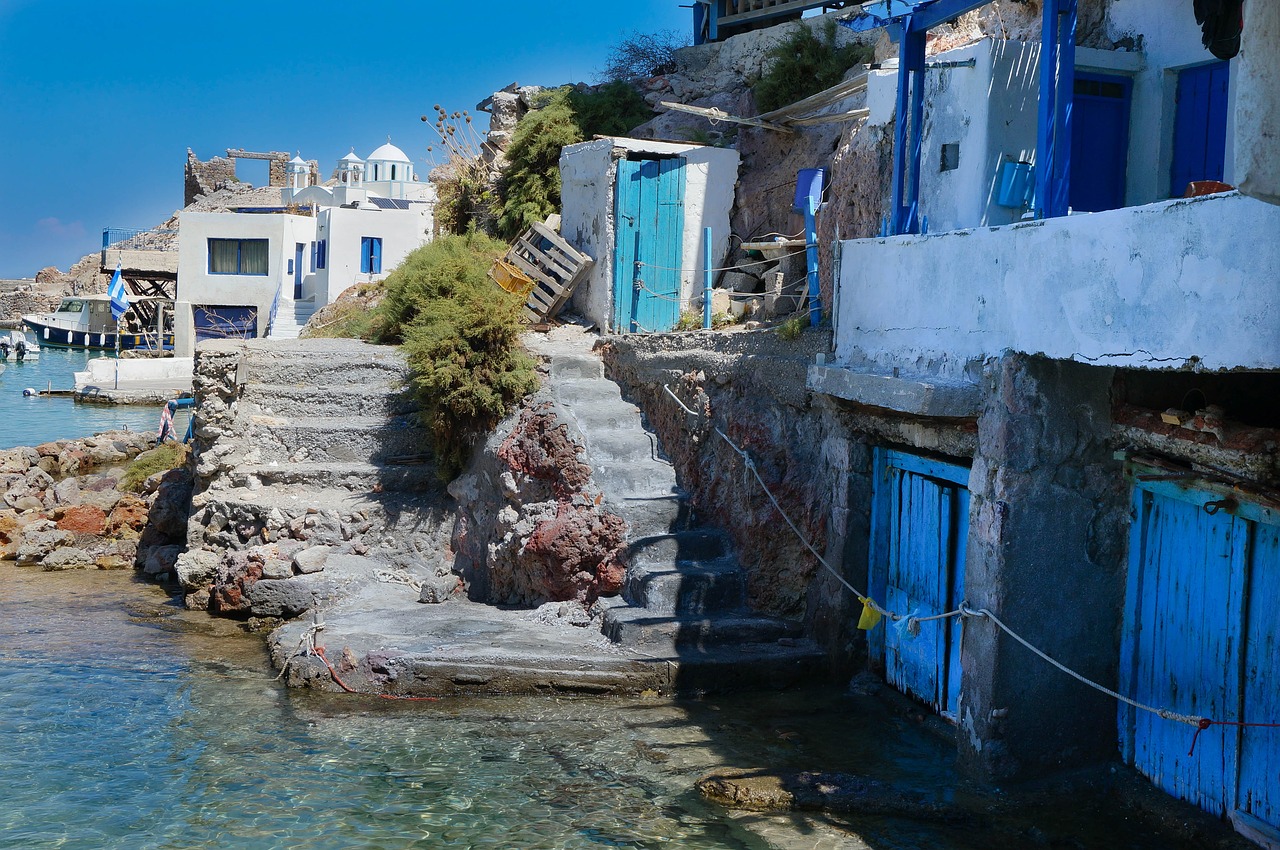 Visiting Kimolos
It's easy to visit the neighbouring little island of Kimolos from Milos, as there are several ferries a day in high season making the 30-minute trip. For more information see our Kimolos page.
Getting to Milos
The most convenient way to get to Milos from outside Greece is usually by taking a flight to Athens and then a flight or ferry to Milos.
Flights to Milos
There are usually one or two flights a day between Athens and Milos with Olympic Air, with a journey time of about 40 minutes. There were plans to extend the airport to allow larger aircraft to land but due to the economic situation in Greece these plans are on hold. 
Ferries to Milos
There are regular ferry connections to Milos from Piraeus and from most of the other Cyclades Islands. Ferried from Piraeus run several times a week (but not daily) with a journey time of anything from 3-5 hours, depending on the service.
Ferries in Greece
Ferries in Greece has an excellent and very thorough website where in addition to checking ferry schedules and times, you can also book tickets and get lots of useful information about travelling by ferry in Greece.
Where to Eat on Milos
Read this piece from the UK's Guardian newspaper on Marvellous Milos: the Greek island full of fresh flavours.
Where to Stay on Milos
Travel information about Antiparos near Paros in the Cyclades Islands of Greece from the Greece Travel Secrets website.

Greece Grants Honorary Citizenship to Tom Hanks, who has a holiday home on Antiparos, for his charitable work and philhellenism.

Aegina in the Saronic Gulf Islands is an easy day trip from Athens. This page from Greece Travel Secrets also gives details of ferries and what to do..