Artistic Athens
This extract of Artistic Athens from the Lonely Planet book Culture Trails on Greece Travel Secrets takes visitors on a journey through the artistic side of Athens – and beyond - over a millennium.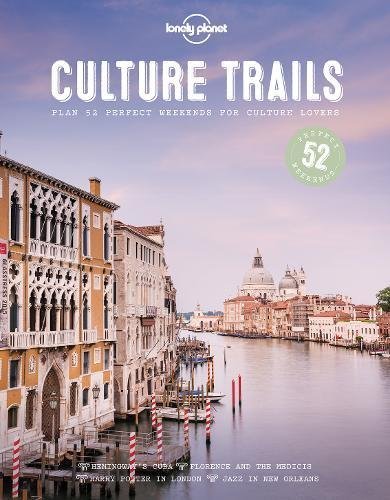 Culture Trails is a handsome coffee-table book, and we've reviewed it fully here. Till then, Greece Travel Secrets is delighted to have this extract from the excellent essay on Artistic Athens. To whet your appetite for the book, here are some of the other highlights:
• On a Classical High in Vienna
• Confronting Soviet Ghosts in Bulgaria
• Literary Paris through the Eyes of Hemingway
• Traditional Music in the Wild West, Ireland
• Mackintosh & the Glasgow Style
• Aboriginal Art in the Northern Territory, Australia
• Havana's Music Scene
• Tokyo Pop Culture
• Politico Washington on the Small Screen
• Finnish Sauna Culture
Artistic Athens over a Millennium
Antiquities and emerging art collide in the Greek capital, where temples symbolising ancient artistic perfection are enthroned above graffiti-splashed city streets.

Ancient and modern, with equal measures of grit and grace, busy Athens is a heady mix of iconic art history and contemporary cultural edginess. Throughout the city, iconic Greek monuments mingle with first-rate museums jammed with priceless art. Meanwhile, modern-day Athens serves as the focal point for the current Greek art scene, with myriad contemporary art galleries and performance spaces showcasing emerging and established local artists.
Inhabited since Neolithic times (4000–3000 BC), the historic centre of Athens is a veritable open-air museum, and the city's present-day cultural and social life takes place amid these ancient landmarks, merging past and present. The magnificent Acropolis rises above the sprawling metropolis and has stood witness to the city's many transformations. Pericles, ruler from 461 BC to 429 BC, transformed the city during the period known as Athens' golden age — the pinnacle of the classical era. Most of the monuments on the Acropolis today date from this period. Drama and literature flourished then due to such luminaries as Aeschylus, Sophocles and
Euripides. The sculptors Pheidias and Myron and the historians Herodotus, Thucydides and Xenophon also lived during this time.
Today, you'll wander spectacularly graffiti-adorned streets combining pointed messages with brilliant flights of artistic fancy, and stop in at spaces dedicated to showing top visual and creative art. While you're perusing the city's rich artistic offerings, you'll also be able to partake in Athens' stylish restaurants, sophisticated shops and hip hotels.
The surrounding region holds excellent art and antiquities as well, and a day trip across the sparkling Saronic Gulf to the island of Hydra combines an historic car-free stone village with summertime exhibitions by both local artists and international art superstars.
Need to Know
This three-day trail is easiest by foot and metro in central Athens; you'll need the ferry to get out to Hydra Island.

© Adrienne Pitts / Lonely Planet 
01 Acropolis
Perhaps the most important ancient site in the Western world, the Acropolis is crowned by the Parthenon and stands sentinel over Athens, visible from almost everywhere in the city. Its monuments and sanctuaries of Pentelic marble gleam white in the midday light and gradually take on a honey hue as the sun sinks, while at night they stand brilliantly illuminated above Athens.
This temple complex, dedicated to the cult of Athena, once combined lavishly coloured colossal buildings and gargantuan statues, some of bronze, others of marble plated with gold and encrusted with precious stones. Major restoration programmes are continuing.
Many of the original sculptures have been moved to the Acropolis Museum. To reach it, stroll down the south slope of the Acropolis, past the enormous Odeon of Herodes Atticus, still in use as a theatre today, and the Theatre of Dionysos – the birthplace of drama.
odysseus.culture.gr; tel +30 210 321 0219; 8am-8pm Apr-Oct, to 5pm Nov-Mar, last entry 30 minutes before closing
© fazon1 / Getty Images 
02 Acropolis Museum
This dazzling €130-million modernist museum showcases the Acropolis's surviving artistic treasures still in
Greece. The museum cleverly reveals layers of history, floating over ruins of an ancient Athenian neighbourhood with the Acropolis resplendent above.
Among its beautifully presented artworks you'll find the five famous Caryatids, the maiden columns that held up the Erechtheion, the temple dedicated to Athena and Posedion (the sixth is in the British Museum). The top-floor Parthenon Gallery is the museum's crowning glory: a glass atrium built in alignment with the temple — visible across the way — displaying its metopes (a series of marble panels that once adorned the façade of the temple) and the 160m-long frieze of the Panathenaic Procession.
Other exhibits include a forest of statues and bronze artefacts from temples predating the Parthenon (destroyed by the Persians).
www.theacropolismuseum.gr; tel +30 210 900 0901; Dionysiou Areopagitou 15; 8am-4pm Mon, to 8pm Tue-Sun, to 10pm Fri Apr-Oct, reduced hours Nov-Mar
03 National Museum of Contemporary Art
Stroll down Leoforos Andrea Syngrou to reach this temple to cutting-edge art, which inaugurated its spectacularly renovated new quarters at the former Fix Brewery in 2015.
The museum shows top-notch rotating exhibitions of Greek and international contemporary art, and its permanent exhibitions include paintings, installations and new media, as well as experimental architecture.
www.emst.gr; tel +30 211 101 9000; Kallirrois & Frantzi; 11am-7pm Tue, Wed & Fri-Sun, to 10pm Thu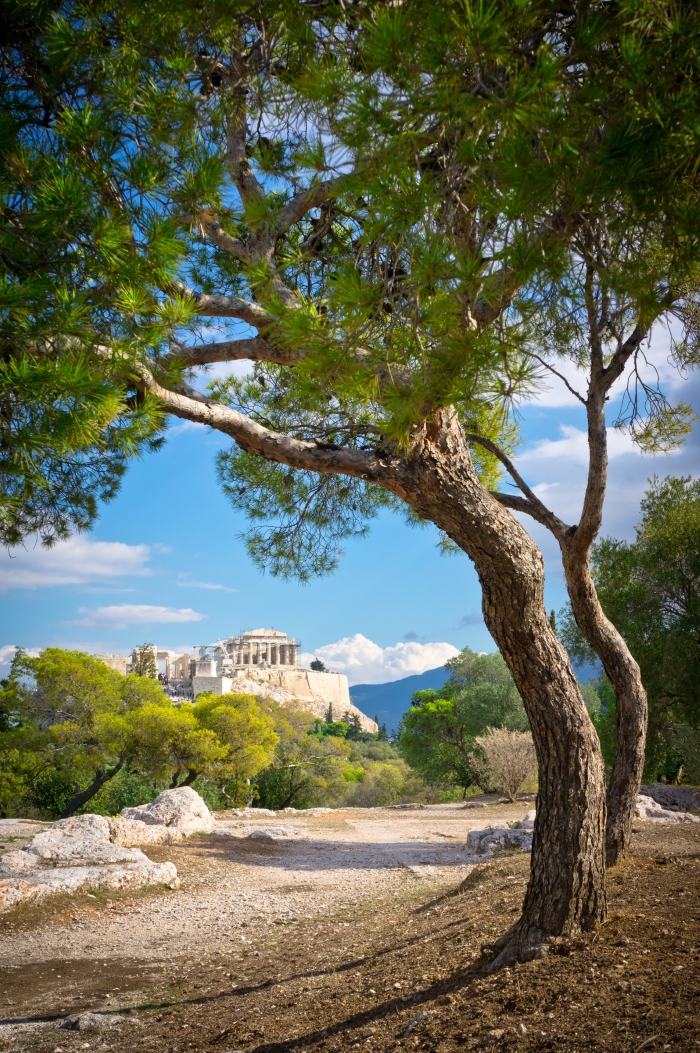 The Acropolis
© mffoto / Shutterstock 
04 Panathenaic Stadium
The grand Panathenaic Stadium lies between two pine-covered hills, 1.6km northeast of the National Museum, and is the embodiment of architecture as art, with its sweeping arc of harmoniously proportioned seats and perfectly oval field.
Originally built in the 4th century BC as a venue for the Panathenaic athletic contests, it's said that 1000 wild animals were sacrificed in the magnificent arena during Hadrian's inauguration in AD 120. Later, the 70,000 seats were rebuilt in Pentelic marble by Herodes Atticus.
The stadium made a stunning backdrop to the archery competition and the marathon finish during the 2004 Olympics. It's still used for concerts, public events and the annual Athens marathon. If you don't fancy hiking out here on foot, take bus 10 or 550 from the Olympiaki stop on Syngrou.
www.panathenaicstadium.gr; tel +30 210 752 2984; Leoforos Vasileos Konstantinou; 8am-7pm Mar-Oct, to 5pm Nov-Feb
05 Taf
Two kilometres northwest, in the bustling Monastiraki neighbourhood past the verdant National Gardens, lies Taf (The Art Foundation). The warren of spaces in a series of crumbling 1870s brick buildings function as art, music and theatre venues. Athens' emerging artists show their work here, and many performances and screenings are free. The central courtyard cafe fills with an eclectic young crowd. The Monastiraki quarter is also worth a wander, with its magnificent classical sites (the Ancient and Roman Agoras, Hadrian's Library) and its chintzy antique and flea market.
Tel +30 210 323 8757; Normanou 5, Monastiraki metro station; noon- 9pm Mon-Sat, to 7pm Sun
06 National Archaeological Museum
One of the world's most important   museums, Greece's National Archaeological Museum is just a hop away on the metro and houses the finest collection of Greek antiquities: more than 11,000 items in an 8000-sq-metre, 19th-century neoclassical building.
Treasures offer a comprehensive view of Greek art from the neolithic to classical periods. The fabulous collection of Mycenaean antiquities, dating from the late Bronze Age and made from elaborately crafted gold and precious stones, are the museum's tour de force, especially the gold Mask of Agamemnon.
The Cycladic collection displays superb figurines from the 3rd and 2nd millennia BC, which inspired modern artists such as Picasso. Don't miss the Minoan frescoes from Santorini (Thira).
www.namuseum.gr; tel +30 213 214 4800; 28 Oktovriou-Patision 44, Viktoria metro station; 8am-8pm Apr-Oct, reduced hours Nov-Mar
07 Graffiti in Exarhia
The bohemian Exarhia district (abutting the Archaeological Museum to the southeast) has an alternative culture and history that sets it apart from Athens' other neighbourhoods. A hotbed of students and anarchists, its homegrown graffiti is a bold treat, mixing excellent painterly technique with sharp messaging.
Start at the Strefi Hill end of Themistokleous and simply wander the neighbourhood, looking for the latest expressions of both fancy and ire.
© Freeartist / Getty Images / iStockphoto 
08 Hydra Island
Nearby Hydra is the gem of the Saronic Gulf and stands alone among Greek islands as the one free of wheeled vehicles. No cars. No scooters. Just tiny marble-cobbled lanes, exquisitely preserved stone architecture, donkeys, and clear sea.
Artists (Brice Marden, Nikos Chatzikyriakos-Ghikas, Panayiotis Tetsis), musicians (Leonard Cohen), actors and celebrities (Melina Mercouri, Sophia Loren) have all been drawn to Hydra through the years, and it remains an art powerhouse.
Every June to August, collector Dakis Joannou's Deste Foundation hosts an exhibit at the island's former slaughterhouse, featuring one international contemporary art superstar. Both he and fellow collector Pauline Karpidas are part-time Hydra residents. Pauline similarly fills a gallery on the port with a major artist's work each summer, and the Melina Mercouri Gallery and the Historical Archives Museum host ever-changing exhibitions. The ferry journey over to Hydra takes about 1¾ hours from Piraeus port.
BY ALEXIS AVERBUCK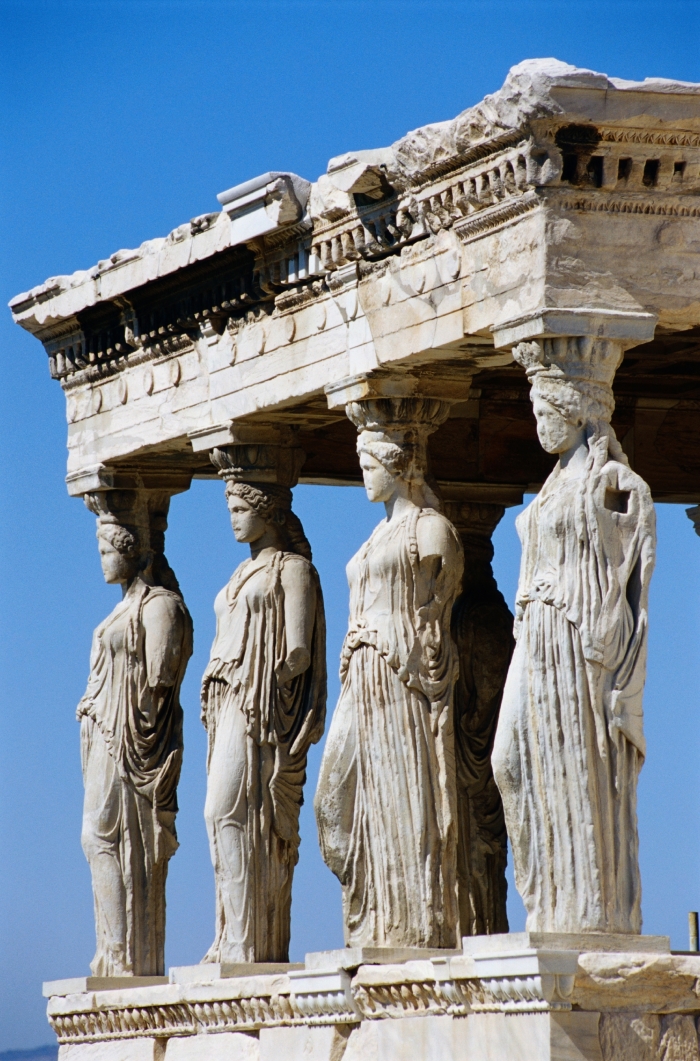 The Caryatids at the Acropolis in Athens
© David Buffington / Getty Images 
ESSENTIAL INFORMATION
Where to Stay
ELECTRA PALACE
In the charming, historic quarter of Plaka, this smart hotel is one for romantics — have breakfast under the Acropolis on your balcony (in higher-end rooms) and dinner in the chic rooftop restaurant. Rooms are buffered from the sounds of the city streets.
www.electrahotels.gr; tel +30 210 337 0000; Navarhou Nikodimou 18
HERA HOTEL
This elegant boutique hotel, a short walk from the Acropolis, has been totally rebuilt – but the formal interior design is in keeping with the lovely neoclassical facade. The rooftop restaurant and bar have spectacular views.
www.herahotel.gr; tel +30 210 923 6682; Falirou 9
Where to Eat & Drink
CAFÉ AVYSSINIA
Hidden away in the middle of Monastiraki's flea market, this bohemian restaurant specialising in mezedhes gets top marks for atmosphere, food and friendly service. There's live Greek music on weekends and Acropolis views upstairs.
Tel +30 210 321 7047; Kynetou 7
FUNKY GOURMET
Nouveau gastronomy meets fresh Mediterranean ingredients at this two–Michelin-star restaurant. Elegant lighting, refinement and sheer joy in food make this a top stop.
www.funkygourmet.com; tel +30 210 524 2727; Paramithias 3, cnr Salaminas
Celebrations
HELLENIC FESTIVAL
The ancient theatre at Epidavros and Athens' Odeon of Herodes Atticus are the headline venues of Greece's annual cultural festival held June to August, featuring a top line-up of local and international music, dance and theatre.
www.greekfestival.gr
ART-ATHINA
Athens' annual three-day contemporary-art fair (usually in May) showcases a broad spectrum of art from Greek and international galleries, with satellite exhibitions held around town.
www.art-athina.gr
The above extract is reproduced with permission from Culture Trails, © 2017 Lonely Planet: www.lonelyplanet.com.

Don't miss this visual tour of Athens with photos by Donna Dailey of Greece Travel Secrets.