Airbnb near Chania
This Airbnb in the quiet village of Malaxa, a 30-minute drive into the hills above Chania, is a peaceful retreat with a delightful and thoughtful artist owner, with wonderful views and amenities.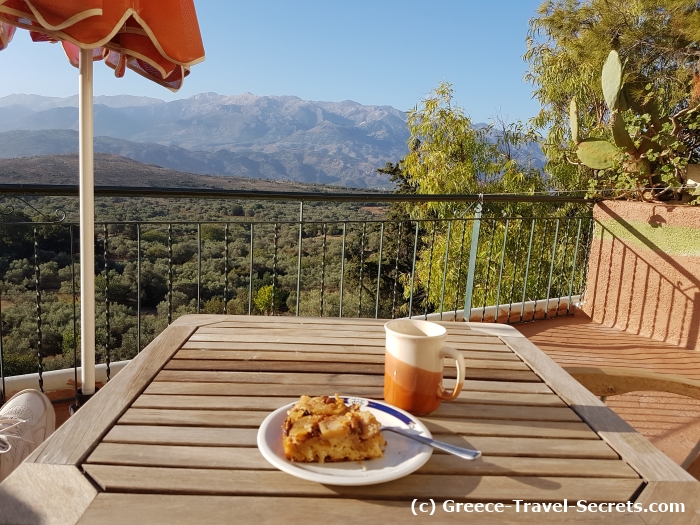 It was the apple pie that did it. We were staying at Malaxiana, an Airbnb in Malaxa near Chania, which was self-catering. As we hadn't yet had time to self-cater, the owner, an artist named Demetris Vamvounakis, brought us two huge slices of the most delicious apple pie, flavoured with walnuts and cinnamon, and made by his wife. It meant that we could enjoy our breakfast coffee and have something to eat with it before venturing out to explore and buy some supplies.
To Malaxiana
We sat on our apartment's big patio, shaded by umbrellas, and looked down over olive groves towards the glinting waters of Souda Bay on the north coast of Crete. To the west was Chania, one of our favourite towns on the island, and all around there was plenty to discover, though it was a great temptation to just stay at Demetri's and chill out.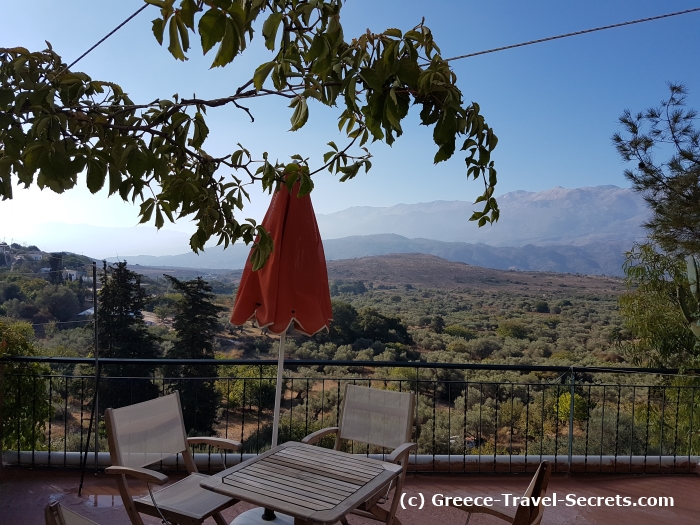 We did do that one morning, and Demetri, who's an artist, took us down below the house to show us his studio. It was a wonderful place, full of strikingly original and often whimsical art works: sculptures and paintings and mobiles, all evidence of an enquiring and playful imagination. He moved quickly around the rooms with great energy and enthusiasm, pointing out his various creations while telling us his life story too.
Demetri Showing Us His Creations
'I was born in Athens,' he said. 'My grandfather had an olive press here in the house I live in. He went to Athens in the late 19th century. They came back with a flour mill. They bought the first shipwrecks from the Greek government for recycling.'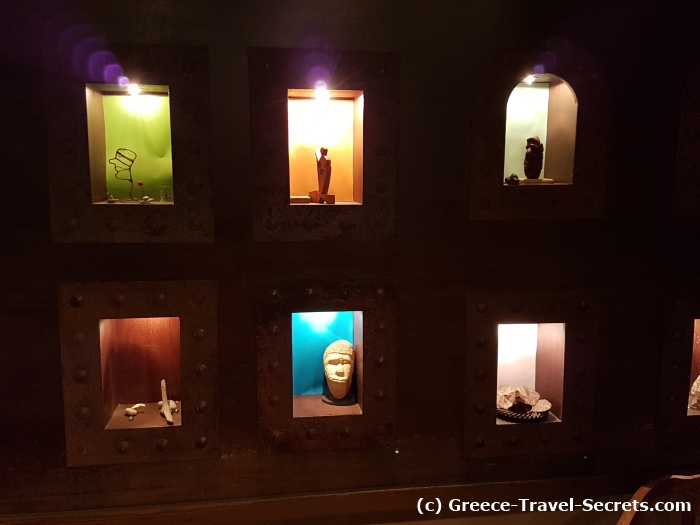 Some of Demetri's Art Works
'I came back here from Athens. I was lucky to have the house and I renovated it in 2006. Not the rooms, only the gardens and this part below the house. I tried to do a tavern but I didn't want that. I experimented in many ways to try to make an income. The most successful was inviting a group of people to dinner in my house, from 7pm to whenever, two courses, wine, lots of conversation and people liked that. But it wasn't for me. I didn't want to be a tavern man.'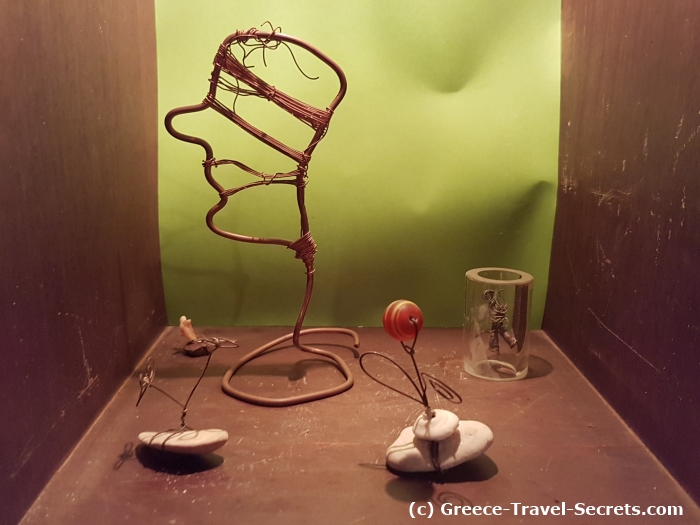 Now he rents accommodation out on Airbnb and in winter also runs courses for children, as he's passionate about the environment.
'In winter I started to invite children to teach them about recycling. I take them to a car recycling place. If they're lucky they get to smash a car! But it's to teach them about recycling.'
'If people stay for a week they'll find food in the fridge, coffee, tea, honey, oil, fruit, bread. If they spend 90 euros a day on the accommodation then they get back 30 in food! It's not tourism,' he insisted, 'it's visitors.'
He stays open all year. There's a swimming pool too, and in winter when people don't want to use it he fills it with goldfish. Demetri is a quirky man, totally charming with a warm heart, and with the offbeat eccentricity of the artist.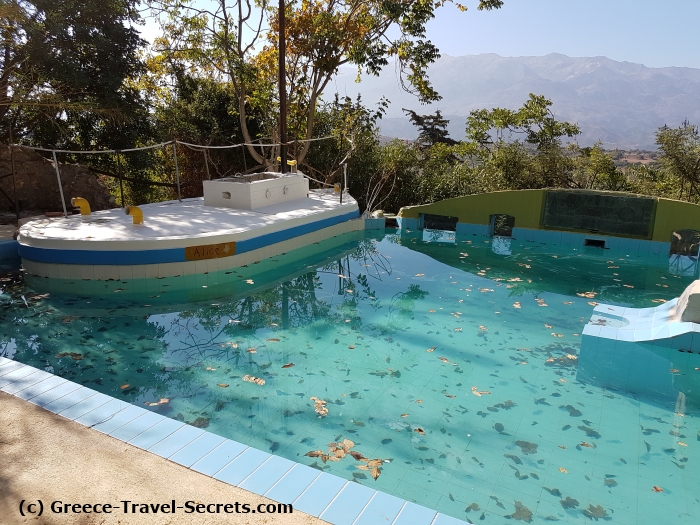 The Swimming Pool in Autumn
But he is also business-like and the accommodation is very well-equipped. There was fresh coffee, filters, a coffee-maker, even a hair-dryer. As well as the basic foods to get you started, there was also orange juice and ouzo in the fridge. His wifi code is painted on the wall right inside the front door, and it's also the same as his phone number.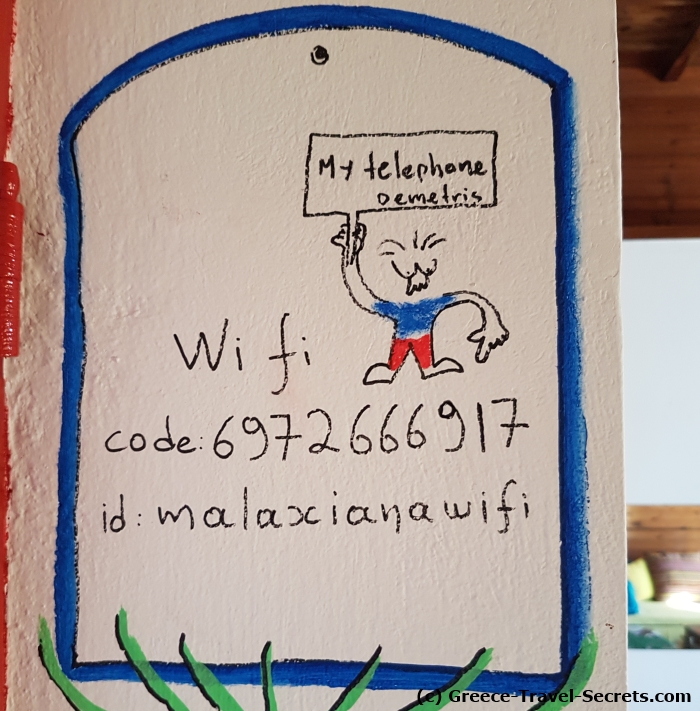 On a table beneath the stairs is a pile of books, brochures and local information, like walks and where to eat. There's nowhere to eat in Malaxa itself, which has a population of 70-80, but plenty of options in villages nearby, or of course you can self-cater and the accommodation is very well-equipped for that. One Russian couple stayed there for 15 days, Demetri told us - and we can see why.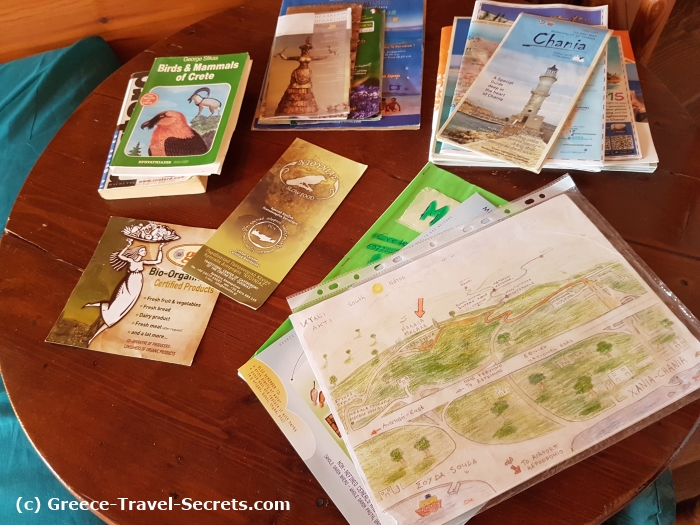 The décor is rustic, with lots of wood, but brightened by the many colourful artistic touches. Downstairs is a comfy couch, a sitting and dining area, the kitchen and the bathroom with a shower. Upstairs is another sitting area (though we used it to unpack our suitcases) and beyond that a double bedroom. It's simple but is clean and has everything you could want. The only drawback for us was having to trek downstairs to use the bathroom, but given the delightful time we had there that was a minor thing.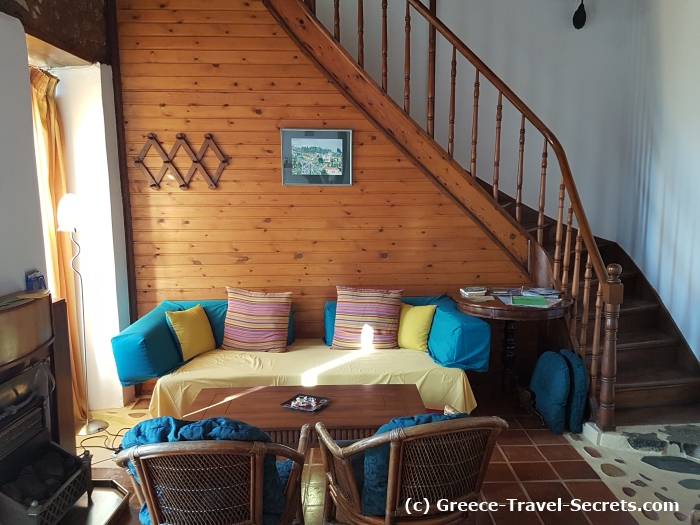 Demetri was happy to share his life story with us, and all-in-all was an inspiring man. He seemed a little bemused by the way that life sometimes works out, and although there are bad times there are also good times to enjoy.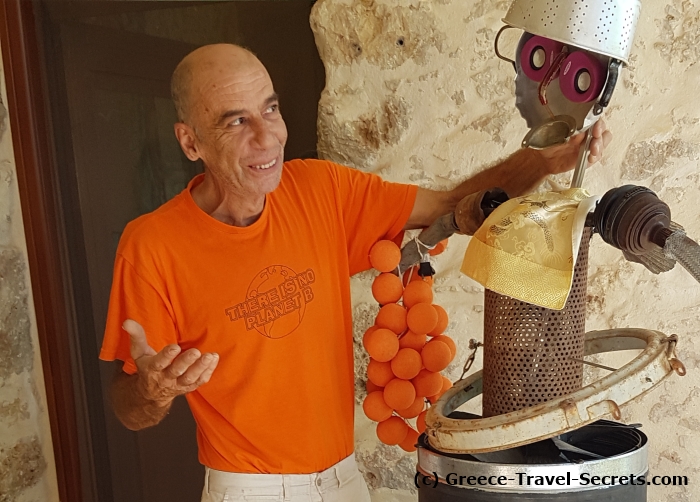 'When I came here,' he told us, 'I was married but after five years my wife left. Later, when I was 43, and sitting in the tavern, this lady said to me: "I want you." I said: "No, no!" She said "I want to marry you." I said "No. no, you are too young!" She was 23. But now we have been married 16 years and have two children. I was 60 yesterday!'
More Information
For more information and bookings see the Airbnb page
https://www.airbnb.com/rooms/1330591
We learned about this accommodation through our friend Isi, who runs Go Crete, which can organise all kinds of Cretan tours and experiences.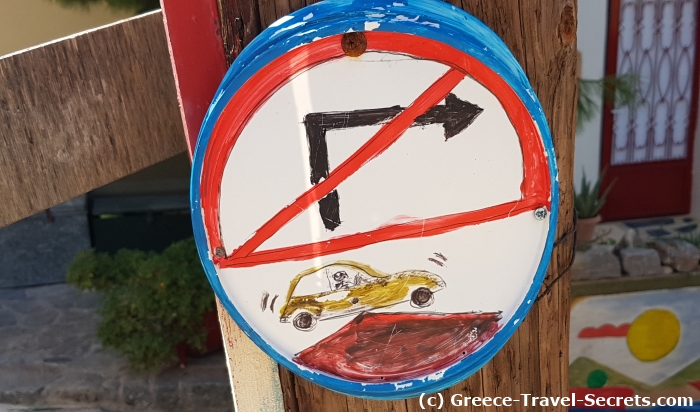 Road Sign Demetri-Style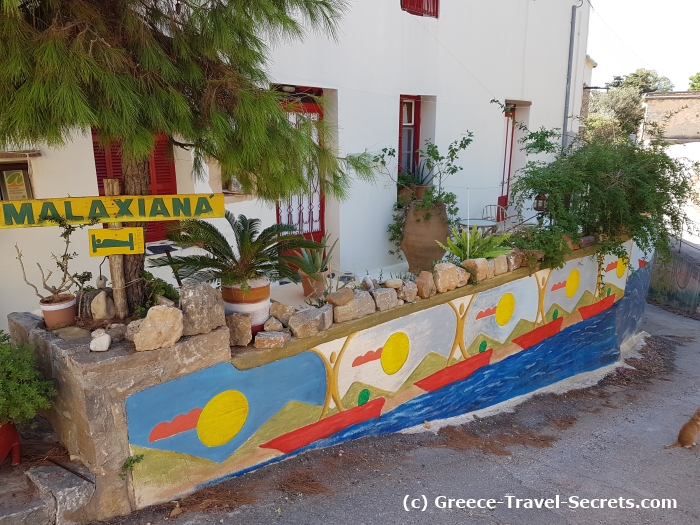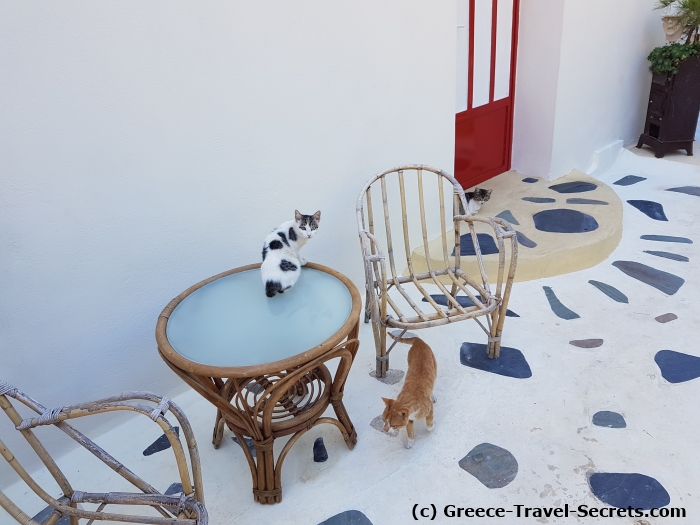 Of Course There Are Cats - This Is Greece!